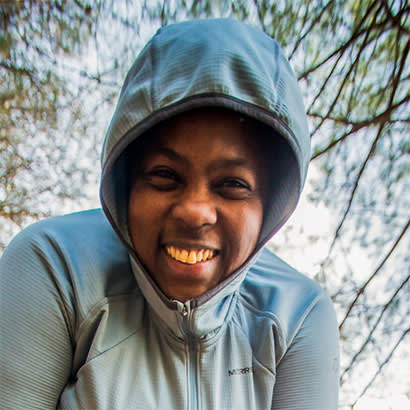 It's hard to believe, but it is already November. One of my favorite things to do this time of year is get outside and take in all the beautiful fall foliage and crisp air here in Virginia, and I'm fortunate to have some great trails close to my home, which has really benefitted both my physical and mental health — but especially my mental health. So, I'm thrilled that NRPA is once again partnering with Merrell for the Hike Your Turf campaign this month, which focuses on encouraging everyone to get outside and explore their local parks and trails, as well as the importance of equitable access to these spaces.
The campaign leads up to National Take a Hike Day on November 17, so be sure to share all the ways you're celebrating on social media using #HikeYourTurf — Merrell will donate $1 to NRPA for every post using that hashtag, as well as $5 for every email signup on their website!
One way we're celebrating this campaign is by welcoming today's guest Mirna Valerio — one of Merrell's ambassadors — to the podcast. Mirna was born and raised in Brooklyn, New York, and she is a former educator, cross-country coach, ultrarunner, obstacle course enthusiast, and author of A Beautiful Work in Progress.
Although she began running in high school, Mirna recommitted to the sport after a health scare in 2008. It was then that her love for running and all its attendant benefits were reignited. She soon started her blog, Fatgirlrunning, about her experiences as a larger woman in a world of thinner athletes. Mirna's writing and athletic story have been featured in tons of publications, and in the viral REI-produced documentary short, The Mirnavator. She was also chosen as a 2018 National Geographic Adventurer of the Year.
Tune in to the full episode below to learn more about Mirna, her passion for running and the outdoors, and what compelled her to begin sharing her story, which has inspired so many. You'll also learn:
How access to local parks and trails has personally benefitted Mirna's life.
What she is most proud of among her many accomplishments.
How she unplugs and is working on embracing self-care
How park and recreation professionals can "allow people to live, to experience, and to express the fullness of their humanity every time and all the time."
Why you should #HikeYourTurf on November 17, and more!
Related Links:
Listen to the episode for the full story.