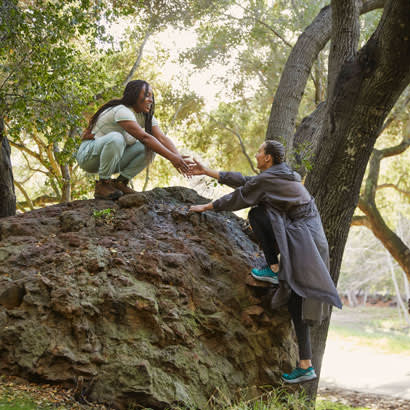 "Nature is not a place to visit. It is home."
–Gary Snyder, #HikeYourTurf

The leaves are turning, the weather is cooling and the trails are calling.
Lucky for you, the perfect trail might be closer than you think!
This November, NRPA is thrilled to once again partner with Merrell for the second annual Hike Your Turf campaign. All month long, NRPA and Merrell are working together to encourage folks to redefine "hiking" and "the great outdoors" by simply getting outside in their local community.
Through this campaign, we are calling on folks to celebrate their local trails and parks by posting their hiking photos with the hashtag #HikeYourTurf. Merrell will donate $1 to NRPA for every post using the hashtag #HikeYourTurf on Instagram and Facebook, and $5 for every email sign-up through November 17, 2021.
"What's in a Name?"
The Merriam-Webster diction defines a "hike" as a long walk especially for pleasure or exercise. A hike can occur close to home and can be as long, strenuous and scenic as you please, or as leisurely as you'd like.
We get it — there is something so remarkable about hiking in our favorite national parks and state forests. But by limiting our concept of "hiking" to only those long, strenuous excursions on some far-off mountain, we risk reducing the opportunities to benefit from simply getting outside and limit the number of people who view themselves as hikers.
There are countless physical and mental benefits of being outside — and they don't take long to occur:
5 minutes of outdoor activity can boost your mood and self-esteem
20 minutes spent out in the open air can boost energy as much as a cup of coffee

Other studies have shown that walking in nature can increase focus and that simply viewing nature can help the human body to recover from and adapt better to emotional stressors.
These benefits can start occurring the second you step outside and hit your trail!
To make these benefits of hiking accessible to everyone regularly, we must look locally. As we've seen throughout the COVID-19 pandemic, most communities are full of awesome and accessible outdoor amenities, including local trails, greenspaces and other walkways.
Take a Hike!
And we mean that in the nicest way possible. On Wednesday, November 17, 2021, we're celebrating National Take A Hike Day and hope you will join us!
Hump day may make it challenging to get out on a long, far-off hike — which is why it's the perfect occasion to put that "Hike Your Turf" mindset into practice. Before work or after school, dedicate some time to explore a new local trail or get back to one you haven't visited in a while. Encourage friends, family, coworkers and your community to get out and join you.
Bringing the Outdoors to Everyone
The Hike Your Turf campaign isn't just a call for individuals to hike — it is a call for systems change.
While the ability to get outside to quality parks and trail spaces locally should be a right — we know it is not a reality. NRPA estimates that as many as 100 million people (approximately 30 percent of the United States) do not have ready access to the lifesaving benefits of local parks, recreation and trail systems.
In the United States, people of color, low-income communities and tribal populations not only lack the same access to quality parks and recreation amenities, but they also have been disproportionately exposed to environmental conditions that can harm their health. Nationwide, race is the most significant predictor of a person living near contaminated air, water or soil.

We can't simply encourage people to hike their turf when their turf isn't hikeable. NRPA and Merrell are committed to working together to rectify systemic injustices and increase equitable access to the outdoors for everyone by building awareness to disparities and advocating for more robust park and recreation systems, bolstering the essential role of park and recreation professionals, and redefining the narrative of the "outdoors."
Merrell has partnered with NRPA on the Hike Your Turf campaign since 2020 and is also a proud sponsor of Park and Recreation Month. Merrell believes in sharing the simple power of being outside. No matter who you are, where you came from, who you love or how you move — everyone should be welcome outdoors and wherever life takes us. Merrell strives to inspire everyone because, together, we can help protect the trail we love. To learn more about Merrell, visit their website.

To learn more about how NRPA is working to increase equitable access to the outdoors, read our statement on creating an equitable future.
Participate in #HikeYourTurf on Social Media!
Hashtag to use:
Be sure to tag NRPA and Merrell in your posts:
Cassie Pais (she/her) is NRPA's senior development officer.
Lauren King (she/her) is Merrell's senior marketing manager, brand communications.