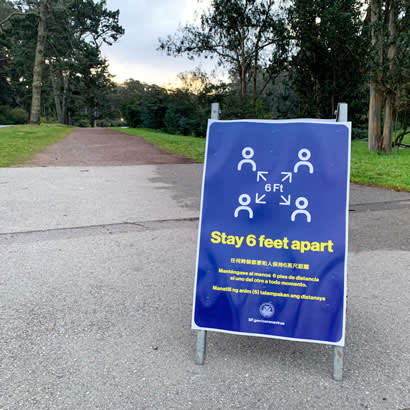 It's a paradox unlike any we've dealt with before. Parks and open spaces are being lauded for their mental and physical health benefits, while at the same time are being scrutinized for whether or not the public can continue to use them safely during the COVID-19 pandemic.
Keeping our parks and green spaces open and accessible relies upon everyone following public health best practices to stop the spread of COVID-19. Not everyone has a backyard or private green space, so people are turning to America's backyard — our public parks and open spaces — in this time of crisis.
We've seen numerous examples of how recommendations, closures and restrictions are being communicated across the country. We've collected those ideas and distilled them into best practices for the broader parks and recreation community.
1. Use messaging that reinforces the need for the community to work together to keep parks open
We know that not all facilities can remain open. In fact, NRPA is encouraging park and recreation departments to temporarily close playgrounds and play structures to reduce the chances of spreading COVID-19. However, we believe parks and green spaces that allow for adequate physical distancing should remain open so that all may enjoy the physical and mental health benefits of these spaces. Here are some talking points that may be helpful when communicating with your public, media and elected officials.
Primary Talking Points
Our parks and green spaces matter now more than ever.
While using parks and public spaces, all government rules and local ordinances around social distancing and self-quarantine apply. We must work together and follow the rules to keep these spaces open.
Supporting Talking Points
The Centers for Disease Control and Prevention (CDC) has flagged mental health as a serious concern in this pandemic.
People are isolated, fearful, and doing what they can to cope with the implications of this crisis.
We know that access to nature through parks and green spaces offers important physical and mental health benefits.
Following public health guidance and practicing physical distancing is so important because we want these spaces to be accessible wherever possible.
People should consult their state, county and local jurisdictions for shelter-in-place orders and other guidance before traveling to parks.
The decision around access to parks should be made by local authorities based on their assessment of risk.
2. Post signage with consistent messaging
In communications, we talk about the rule of seven. You need to hear something seven times before you will consider taking action. Whether your community members follow you on social media, watch the local news or get your emails, they can still benefit from being reminded about physical distancing protocols in your parks and open spaces. We've seen many creative signs used, but if you need some that are ready to go, NRPA has produced materials on using parks safely as well as tips for physical distancing in parks.
You can access multiple versions of our infographic, including versions in Spanish and French, on our webpage dedicated to COVID-19 resources.
Here's an example of the infographic being used as a sign on a trail:
3. Work with local media
Everyone is covering the same topic, and you've got an important message to share about ways community members can cope with the mental health concerns around this pandemic. If you have connections, use them! Otherwise, reach out to the general news desk. Feel free to share our infographic or one-pager with your media contacts, as they are often looking for visuals to share.
4. Use every communication channel you have
Remember the rule of seven? We've got to spread this message far and wide! Use email, social media, public relations, video, signage, radio — everything you have in your communications toolbox. You also can ask volunteers to share your messaging on their personal social networks. Send them an email with a couple of quick social posts and images. Include an ask for their networks to share the messages as well. A couple samples could look like:
"Please Share! We have to work together to keep our [Community Name]'s parks open. Please follow these guidelines from [Park and Recreation Agency Name] so we can all enjoy the physical and mental health benefits of these spaces safely."
"Please share! This infographic from NRPA has great tips on how to maintain physical distancing in parks. Let's work together to keep [Community Name]'s parks open so we can enjoy their physical and mental health benefits."
If you share NRPA's resources, please tag us in your post so we can see and share it, as well.
Facebook/LinkedIn: @National Recreation and Park Association
Twitter: @NRPA_News
Instagram: @NRPA
Five Rivers MetroParks created this video that's a great reminder about the importance of following the rules, so everyone can use parks safely:
We know every community's needs and risks are different and recognize that this messaging may not apply to your individual circumstance. However, we hope this helps you share the vital importance of our parks and open space during these times, as well as highlights the important work you are doing.
I'd love to hear what you're doing in your community during the COVID-19 pandemic and welcome your emails at rsutton@nrpa.org.
For more information about NRPA's response to COVID-19, as well as available resources for park and recreation professionals, please see our Coronavirus Disease 2019 (COVID-19) webpage
Roxanne Sutton is NRPA's Director of Communications.