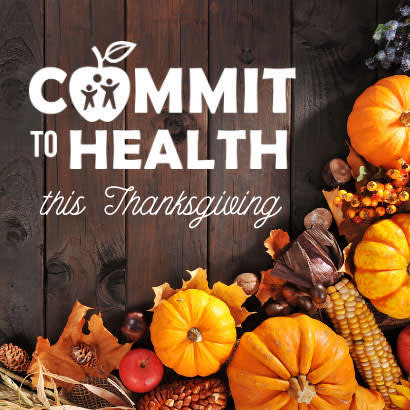 The holidays are upon us, and for many, that means plenty of time around a table enjoying meals with family and friends. But, it's also easy to feel stuffed like a turkey or lethargic after one too many pieces of pie. As you nourish your souls with good company this year, we're excited to put our Commit to Health Foods of the Month recipes and resources to good use and help you spend time nourishing your bodies with healthy, delicious foods!
Check out these great recipes and be sure to share with us how you've incorporated the Foods of the Month into your holiday meals.
Bring root veggies to your table
Root vegetables are a must-have on your holiday table. Root vegetables, like onions, carrots, beets and sweet potatoes, are not only great sources of vitamins A and C and carotenoids/antioxidants, but also contain lots of nutritious minerals and fiber. Try the recipe for Oven Roasted Beets.
Going lean with turkey
As a protein, consider lean meats. Lean meats like turkey and chicken provide important nutrients such as protein, B vitamins and zinc that are vital for the health and maintenance of your body. Choosing lean and extra lean meat gives your body the healthy nutrients that it needs, without too much saturated fat, which is high in calories. Thanksgiving gives us a great opportunity to use lean turkey in many ways — during the traditional dinner, on sandwiches with whole-grain bread, in soups and salads — think about all the creative, healthy ways you can use up all that nutritious leftover turkey this year! Try the recipe for Turkey-Apple Gyros.
Incorporating healthy alternatives into side dishes and desserts
Looking for a plant-based protein for your meal? Plant-based eating means that we eat foods that grow out of the ground, focusing on unprocessed (as much as possible) fruits, vegetables, whole grains, nuts and legumes (beans, peas, etc.). Try the recipe for Sautéed Spinach and Mushrooms.
For a tasty and nutritious dessert, why not use naturally sweet apples? Apples are very nutritious because they contain lots of fiber, vitamins and antioxidants. Try the recipe for Baked Apples, or check out this video for a fun fruit salsa.
In the mood for something creamy? How about a recipe using low-fat dairies, like skim milk, reduced-fat cheeses and yogurts? These foods are naturally nutrient-rich, providing calcium, potassium, other minerals, vitamins and protein essential for human growth and development. Reduced-fat dairy products help build strong bones and teeth, and help reduce the risk of low bone mass, fractures and osteoporosis. Try the recipe for Chocolate Ricotta Mousse.
Getting active
After your healthy meal, get moving! Take a walk outside, play some football or soccer, or stretch out with some yoga. Moving will help you digest your meal and keep you energized for the rest of the holiday season.
Maureen Acquino is an NRPA Health and Wellness Program Manager.