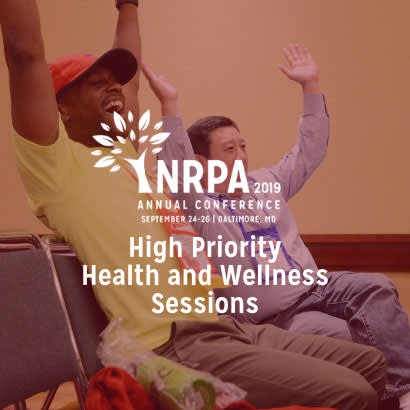 There is no doubt about it — local park and recreation professionals are health and wellness leaders in their communities. You not only provide the facilities and programming to encourage physical activity, connect families to healthy and nutritious foods, and offer evidence-based interventions for chronic conditions, but you also foster a culture of health that all individuals in the community can benefit from every day.
NRPA and our partners are offering a host of informative and impactful education sessions at the 2019 NRPA Annual Conference in Baltimore to equip the park and recreation field with the tools to tackle our most pressing public health challenges and promote healthy, active communities. From exploring the connection between parks and recreation and mental health, learning how to establish referral systems, guidance on how to build meaningful partnerships with cross-sector stakeholders, and how to increase community engagement and health planning processes, these sessions will leave you eager to make advancements back home!
So, before you pack your bags, take a few moments to look over the conference session list and make a game plan. To help, NRPA has compiled a quick list of high priority health and wellness sessions that are being hosted by us or our partners. We can't wait to see you there!
Session Highlights
Community Health Strategies and Partnership Development
If you are looking for case studies and strategies to increase your involvement in the local public health sector and/or increase outreach and engagement for new populations, check out these sessions focused on community health strategies and partnership development:
Health Planning for Park and Recreation Agencies
Monday, September 23 | 8:30 a.m. – 11:45 a.m. | Room: 316 | Session Number: 71
As key components of a community's overall health, park and recreation agencies have an emerging opportunity to collaborate with public-health agencies, non-profits, and regional hospitals in community health planning. This workshop will use local health data from the attendee's community, allowing them to identify how a park and recreation agency can adapt and integrate its plans, programs and services to create collaborative public health enhancing programs.
Inclusive Healthy Places (IHP) Framework: A Tool for Healthy Community Design
Tuesday, September 24 | 3 p.m. – 4:15 p.m. | Room: 316 | Session Number: 133
There are many aspects of the built environment--beyond the physical design--that contribute to a community's health. The new Inclusive Healthy Places (IHP) Framework tool allows cities and communities alike to shape more inclusive processes and outcomes, and evaluate the ways that inclusion fosters healthy public places that support health equity. Hear from one of authors of this framework to learn about its development and how this tool can be utilized in your community, town, or city.
Using Lifestyle Medicine to Increase Prescriptions for Physical Activity in the Park System
Wednesday, September 25 | 12 noon – 2 p.m. | Room: Exhibit Hall Floor| Session Number: 250
The American College of Preventive Medicine (ACPM) launched a Lifestyle Medicine curriculum program for medical professionals that promotes healthy lifestyle behaviors (physical activity, nutrition, etc.) as a means of preventing and treating chronic diseases. As the health benefits of parks become more well-known, and chronic diseases continue to rise, the medical community is turning to parks as a safe, accessible, and affordable way to get patients healthy right in their backyard.
Furthering Your Agency's Mission Through Partnerships with Healthcare Organizations
Thursday, September 26 | 8 a.m.– 9:15 a.m. | Room: 343| Session Number: 419
The need for various partnerships, particularly with healthcare organizations, is an increasing trend, primarily because more and more people are seeking and receiving health and wellness services outside of the traditional clinic setting and there are many evidence-based programs being developed to help people prevent and manage a variety of chronic conditions. This presentation will highlight an innovative park and recreation and healthcare partnership that is changing the way in which healthcare providers and local parks and recreation are building healthier communities through the delivery of coordinated health and wellness services.
Healthy You, Healthy Me: Wellness Initiatives for Multigenerational Park Settings
Thursday, September 26 | 11 a.m. – 12:15 p.m. | Room: 341| Session Number: 465
Health and wellness is one of the platforms that drives us. But with so many exercise interests, levels of fitness from "never exercised" to experienced athletes and other diverse outlooks and opinions on exercise, how can we create fitness sites and programming that have sticking power with the community? In this session, we'll examine research, case studies and tips on how to use experts in your community, meaningful infrastructure and powerful, low-cost marketing to get people active in your parks and keep them coming back for more.
Mental Health and Emotional Wellbeing
Mental health challenges in the United States have become pervasive, with many individuals suffering from stress, anxiety, addiction, depression, and other mental health challenges and disorders. Parks and recreation plays an important role in supporting mental health and emotional wellbeing. For guidance on how exposure to the outdoors, social connection, and park and recreation staff can improve mental wellbeing, check out these sessions:
Parks and Recreation Supporting Mental Health Challenges
Tuesday, September 24 | 1 p.m. – 2:15 p.m. | Room: 315 | Session Number: 107
There are opportunities for practitioners in our field to support mental health challenges that many individuals face every day. The session will provide an overview of mental health issues facing us as a society, increase awareness of the myriad disorders that exist, and show how the park and recreation industry can play a role in providing support to mental health agencies, mental health professionals and individuals who suffer from mental illness, as well as those who want to maintain good mental health.
Building Resilient Youth: Responding to Trauma, Substance Use and Mental Health Challenges in Out-of-School Time Programs
Tuesday, September 24 | 3 p.m. – 4:15 p.m. | Room: 314 | Session Number: 131
Local park and recreation agencies are one of the largest providers of out-of-school (OST) time programming across the country. Join NRPA, the Afterschool Alliance, and the Alliance for a Healthier Generation to explore how OST providers can better identify risk factors, apply a trauma-informed care lens to their work, and build social and emotional supports into their existing programs that improve health outcomes
A Breath of Fresh Air: A Dose of Being Outside to Improve Mental Health
Wednesday, September 25 | 8 a.m.– 9:15 a.m. | Room: 316 | Session Number: 207
In this interactive, outdoor session, participants will experience, firsthand, the positive impact being outside has on mental health. Participants will learn about current research regarding nature's effect on mental health while taking part in in various outdoor activities that support mental health, including walking meditation, sit spot meditation, mindfulness and more. They will discuss and identify ways to enhance their programs to better address the mental health needs of their patrons and will leave the session with tools and experience to facilitate nature-based mental health programs at their own organizations.
Speed Sessions
With everything going on at the conference, we know you're strapped for time. Between all these sessions, fun times on the exhibit floor, networking over snacks and taking care of yourself, a few quick speed sessions might be just what you're looking for! Take a few minutes Tuesday afternoon to stop by one of these great 20-minute speed sessions:
Farmers Markets and Parks and Rec: A Perfect Pair
Tuesday, September 24 | 2:30 p.m. – 2:50 p.m. | Room: 324/325/326 | Session Number: 1011
As trusted public spaces located in nearly every community across the United States, local park and recreation (P&R) agencies are optimal settings for farmers markets, community-supported agriculture (CSA) programs, and strategic initiatives to increase food access. This session will share recent survey data on the role of farmers markets in P&R, as well as demonstrated best practices to implement farmers markets and CSA programs in local P&R agencies nationwide.
Parks, Health and Hospitals: How a Health Study Started a Revolution
Tuesday, September 24 | 2:30 p.m. – 2:50 p.m. | Room: 338 | Session Number: 1014
If an apple a day keeps the doctor away, then a walk in the park is right on the mark. When park districts partner with local health care professionals, everybody wins! Don't miss the one-of-a-kind opportunity to learn how science has proven that exercising in a park has additional health benefits you can't get anywhere else! Learn how a group with health ailments was able to complete a six-week program and increase their overall health vitals.
Reshape Your Workplace: 5 Activities to Start a Wellness Movement
Tuesday, September 24 | 2:30 p.m. – 2:50 p.m. | Room: Learning Playground | Session Number: 1024
Employee wellness can help your agency retain its best talent while creating a positive climate and collaborative culture. You'll leave this speed session with inexpensive activities to encourage staff and volunteers to adopt and practice healthy habits.
Cassie Pais is NRPA's Development Manager for Health and Wellness.