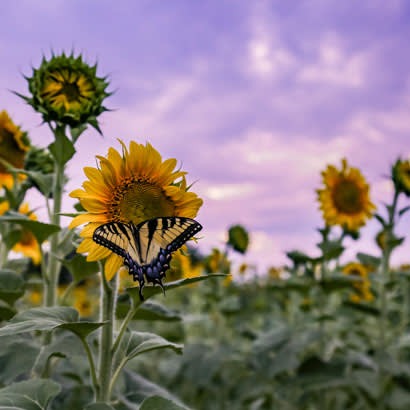 The Parks for Pollinators campaign is continuing to advance awareness about pollinator issues in communities across the country. The campaign focuses on raising public awareness of the current pollinator crisis, encouraging local action and positioning parks as a national leader in advancing pollinator health. This year NRPA hosted its first ever national BioBlitz with support from the Scotts Miracle-Gro Foundation.
As always, our members were willing to step up and help! Over 180 individuals pledged to help pollinators and downloaded information on how to host a BioBlitz. Events were organized from coast to coast, with 21 states represented and a total of 43 park and recreation agencies participating. These groups recorded over 5,000 observations, documenting nearly 1,500 different species of both pollinators and pollinator-supporting plants. More than 500 people participated in the national BioBlitz to record these findings and 523 experts helped identify the findings using iNaturalist. You can check out the results here — you can even see what pollinators were found near you!
Those that hosted a BioBlitz event during Pollinator Month in June had the chance to win a $1,000 prize and one of three Scotts Miracle-Gro prize packs to help with pollinator habitats or programs.
Congratulations to the grand prize winner of $1,000 and one Scotts Miracle-Gro prize pack, Garner Parks, Recreation and Cultural Resources in Garner, North Carolina!
The winners of the two additional prize packs are Glenwood Recreation Park (Princeton, West Virginia) and Broken Arrow Parks and Recreation (Broken Arrow, Oklahoma). Thank you to everyone who participated and hosted events in their communities!
NRPA will be collecting stories, images and feedback from everyone that signed up for our BioBlitz this year. Please send us your best stuff — we would love to share your stories, too! We hope to see even more of you join us next year for round two of Parks for Pollinators BioBlitz!
Michele White, CAE, IOM, is NRPA's Conservation Program Manager.
Glenwood Recreation Park BioBlitz Photos