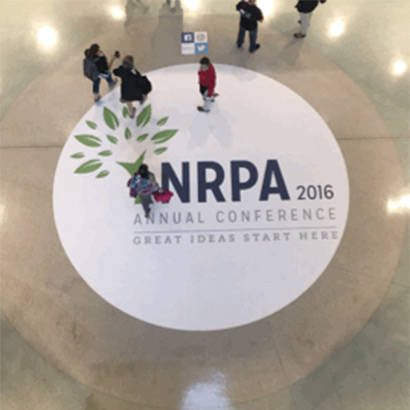 This blog was originally posted to the Virginia Recreation and Park Society and is reposted here with permission.
Having completed the 2016 NRPA Annual Conference that was held in St. Louis from October 5-8, I spent the two hours on the flight home thinking about what I experienced and learned while attending this annual gathering of over 7,000 professionals. 
Of course there was the networking with colleagues, large social gathering aspect of the conference and the opening and closing ceremonies as well as a key note speaker, but there was also a wide variety and good selection of program offerings this year. As I reflected on the programs and key themes, I noted that much of what we face in today's society was the topic of the presentations and discussion. The issues I speak of are diversity, inclusion, social equity, engagement and the value that each of us as public servants brings to the table.  
Each of us, working in our own community and jurisdiction has the opportunity to improve and enhance our communities. As park and recreation providers, we have a truly unique position related to our sphere of influence in the community. We touch more people than schools, health departments and social services. In fact, I believe that through our work, all of us contribute to the largest single social service mechanism in our communities. I also believe that we have a tremendously positive impact on the issues we all face and that we should work to incorporate a social equity platform in our department policies and in our program offerings.  
In the Fairfax County Park Authority we like to say that we build community. I believe each of us, as we perform our work in our own community, have the responsibility and the opportunity to build positive community and bring positive change to the world. We build community with greater magnitude if we take the time to look and act through the lens of those that are most in need and most under-represented in our community. 
The education sessions I attended made me even more aware that I need to be more open to other points of view and more fully aware of the experiences of others that I meet on my professional and life journey. Here's to the success of the National Recreation and Park Association Annual Conference in St. Louis this year, from one attendee who was truly inspired again!
Editor's Note: NRPA is now accepting education session proposals for the 2017 NRPA Annual Conference in New Orleans! Proposals are due November 18. This year, NRPA is giving away one FREE Full Package Registration to one randomly selected person whose proposal is selected for the 2017 NRPA Annual Conference.Learn how to submit your proposal here.
Kirk W. Kincannon, CPRP, AAPRA is the Executive Director of the Fairfax County Park Authority.