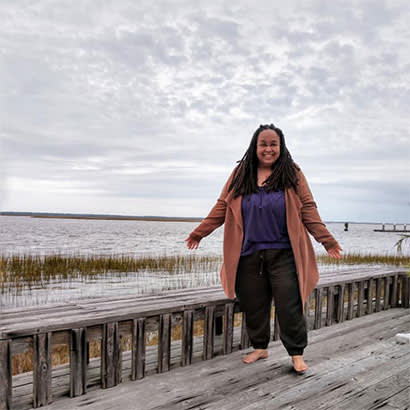 Pictured: NRPA Director of Community and Environmental Resilience Ayanna Williams, MSW (she/her).
The April issue of Parks & Recreation magazine is out now, and on today's bonus episode we're diving into one of this month's feature stories, "Celebrating Earth Day." The article explores how park and recreation professionals across the country are bringing Earth Day events to their communities during April and on Earth Day, which takes place on April 22 – and, this year is the 52nd anniversary of Earth Day.
Joining me on today's episode is the author of the article, NRPA Director of Community and Environmental Resilience Ayanna Williams. Before joining NRPA a little less than a year ago, Ayanna was the Healthy Cities Director at The Nature Conservancy in Georgia, and she also served as the Director of Community Building with Park Pride for more than a decade.
Throughout Ayanna's career, she has cultivated a broad perspective and deep understanding of environmental resilience, building and maintaining relationships, and engaging in work that depends on diverse local partnerships and the support of national institutions.
Tune in to the full episode below to learn more about Ayanna and what led her to a career in the community building and environmental conservation space. You'll also learn:
How local park and recreation agencies are celebrating Earth Day in their communities as a day of action for the planet
How agencies are using creative solutions to address challenges with hosting Earth Day celebrations
What Ayanna would focus on if she were planning an Earth Day event in her community
What we can all do beyond Earth Day to ensure environmental justice is a priority to those with decision-making power
What gives Ayanna hope for the future of our communities and planet (and why there's no downside to hope)
And much more!
Additional Resources:
Listen to the episode for the full story.