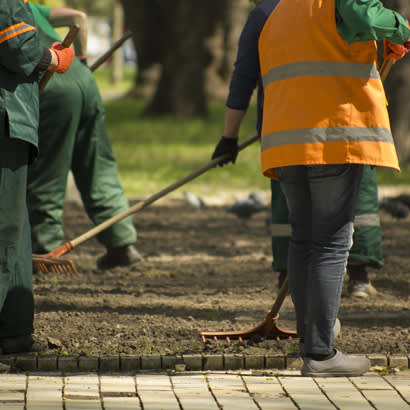 We Need More Public Servants to Celebrate
As we wrap up May, which is often known as Mental Health Awareness Month, I'd like to bring our attention to the one week of the year known as Public Service Recognition Week.
Public Service Recognition Week is celebrated the first week of May since 1985 (beginning on the first Sunday of the month) to honor the people who serve our nation as federal, state, county, local and tribal government employees. As a former public servant turned founder of MuniTask, I care about the future of our public sector workforce because even when we gripe about #government, the fact remains that the government is the largest employer in the world. Public servants across all skills make our #communities a better place to live, work and play!
A New Entry Point to Public Service Work
In the spirit of extending gratitude to the public servants of our nation, particularly those in parks and recreation, I'm going to highlight a few quotes from public servants around the country. I will also note that the decline of the public service workforce will require the public sector to embrace new ideas and innovations that we need to increase the workforce by giving people the opportunity to serve in more flexible, innovative and meaningful ways. As you may have read in my March blog post, I believe one of those ways is through bringing the gig economy (freelancers) to fill government job openings. That's why I launched MuniTask. And, the wave of the gig economy marketplace into government cannot come quickly enough to support our communities and public sector workforce needs as Long Beach, California, is experimenting.
Voices of Parks and Recreation Public Servants
Credell Walls, Director of Sand Ridge Nature Center and Campus, Forest Preserves of Cook County, Illinois, says his work is rewarding because it "Provides opportunities for physical fitness, mental and spiritual health. As an outdoor classroom, someone can bike, hike, bird watch, wall climb and more."
Mason Williams, Unit Operations Supervisor, City of Oklahoma City, Parks and Recreation, believes "It is so important for us to grow the next generation of public servants and have the ability to adapt to meet the ever-changing needs of the workforce in order to provide dynamic recreational opportunities for our communities."
Ana Valdez, Senior Recreation Director, City of Los Angeles, Parks and Recreation, says "My main goal is to help youth and children build character through their experiences in our park programming. Seeing them grow into independent, competent, and confident individuals is a rewarding feeling. A lot of the young individuals that I worked with at the start of my career are now in the same field I am trying to make memories for a new generation of kids."
Lee Williams, Riverside Division Superintendent, Fairbanks North Star Borough Parks & Recreation Department, Alaska, starts with a question before acting, "My first question as we make plans is "how does this bring us together?" This summer we've adopted the theme of #community to spread around all our facilities. As public servants, staff embrace the fun that comes with it."
It Takes a Village of Public Servants
The role of park and recreation professionals improves our quality of life through promoting the well-being of communities. For instance, they are responsible for maintaining and improving parks, public spaces and recreational facilities, ensuring that people have access to safe and enjoyable environments. From tending to the lush greenery and coordinating recreational programs, to organizing community events, these dedicated professionals strive to create inclusive spaces that foster physical health, mental well-being and social connections.
The efforts of park and recreation professionals have a profound impact on the quality of life for individuals of all ages. Accessible parks and recreational areas promote active lifestyles, encourage exercise and combat sedentary habits. They provide opportunities for families to gather, fostering stronger bonds and creating cherished memories. Moreover, these spaces contribute to environmental sustainability, providing habitats for wildlife and enhancing the overall aesthetics of communities.
Looking Ahead
While Public Service Recognition Week is an excellent opportunity to honor park and recreation professionals, it is crucial to recognize the decades-long shortage here and throughout the public sector. If you'd like to connect on this topic, contact me. Thank you for your contributions!
Sara Agate, MPH, Esq. (she/her/ella) is the CEO of MuniTask.
This blog post was written in partnership with the NRPA Young Professionals Network (YPN). Learn more about the NRPA YPN on NRPA Connect or on the YPN Facebook group.