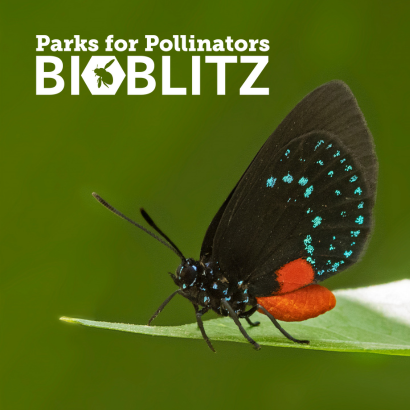 In Southeast Nashville, Tennessee, the suburb of Antioch is the most diverse zip code, populated by many families that have been in the area for generations. A community on the rise, Antioch has a stigmatized reputation that it's trying hard to change. For Caleb Trotter, growing up going to church in Antioch made him realize how different the community was from the prevailing stereotype. When AmeriCorps placed Trotter at Friends of Mill Ridge Park as their Park Conservation and Volunteer Engagement Leader, he was excited to participate in the area's revitalization. His first task? Planning their 2022 NRPA Parks for Pollinators BioBlitz.
NRPA's Parks for Pollinators BioBlitz is a program that aims to raise public awareness of the pollinator crisis and encourage local action through public parks and recreation. Using the platform iNaturalist, community members take pictures of wildlife and plant life at their local parks, creating a snapshot of the biodiversity park professionals steward.
At the Mill Ridge Park BioBlitz, getting residents outside and snapping photos wasn't the hard part; getting them invested was. According to Trotter, people were concerned they didn't know anything about plant identifications or botany. Once outside, though, everyone had something to contribute. Every participant had a story passed down from a grandparent or a story from childhood about the plants. Someone remembered a recipe for poke salad, a cooked greens salad made from a weed poisonous until cooked correctly. Someone else identified pokeweed berries as what their family used to dye clothes growing up.
The iNaturalist observations from the Mill Ridge Park BioBlitz are currently being used to create a field guide to the local plants and wildlife in the park. Residents who participated are contributing to scientific learning — recording their knowledge for future generations to build upon. Trotter notes that the BioBlitz showed residents that "everyone had something to share, even if they didn't view themselves as an expert."
The demographics of Sunrise, Florida, are vastly different from Antioch. Transplants, namely snowbirds, abound. Because many residents didn't grow up in Sunrise, there isn't a lot of local plant knowledge passed down from older generations. According to Sunrise Sustainability Officer Carrie Kashar, folks often opt for non-native plants because they're familiar — and, ironically, readily available in South Florida. Kashar guides residents to plant native species like coontie, which goes through an "ugly" phase when Atala caterpillars chew up the leaves. Understandably, people want a pretty lawn.
In their caterpillar stage, the Atala species consume nearly all of the leaves of coontie plants, but they provide nourishing fertilization to the surrounding soil. Photo courtesy of Dreamstime.
Atala are in chrysalis for about 10 days on coontie plants. Photo courtesy of Dreamstime.
The Atala butterfly, once thought to be extinct, is rebounding due to local efforts to plant coontie to support the mutualistic relationship between these two species. Photo courtesy of Sunrise Sustainability Office.
The BioBlitz is one way Kashar changes minds about "pretty." During the BioBlitz, Kashar and her volunteers are able to explain the life cycle of the previously endangered Atala butterfly and the life cycle of coontie, which the butterfly feeds on. It turns out people are more willing to suffer an eyesore when it supports the life of gorgeous black-and-teal butterflies. In the 1950s, the Atala butterfly was considered "probably extinct." Now, thanks to a big push to plant coontie across South Florida, the butterflies have made a remarkable comeback. The city's "Be a Butterfly Hero" program and a dedicated volunteer-run Sustainability Advisory Board are testaments to residents' investment in environmental justice.
Though the coontie has gained popularity in Sunrise, Kashar and the parks department are still working on cultivating more generational knowledge about native plants. "We don't get a lot of people telling us stories, but this is only our third BioBlitz," Kashar says. "Come talk to me when we're on our tenth."
The Sunrise Sustainability Office engages its community through events like the BioBlitz. Photo courtesy of Sunrise Sustainability Office.
In two very different Southern cities, the BioBlitz has encouraged residents to share their knowledge and learn more about their local plants. In Antioch, Friends of Mill Ridge Park is looking forward to inviting BioBlitz participants to the official opening of the park — the result of a years-long investment. In Sunrise, the sustainability office is brainstorming ways to leverage the BioBlitz to talk about bigger climate justice issues. Both parks are gearing up to participate again this year.
Join NRPA to raise awareness of pollinators nationwide by hosting a Parks for Pollinators BioBlitz in your community this September! You could win one of three $1,000 prizes or one of three Scotts Miracle-Gro prize packs to help with your pollinator habitats or programs. Download our Bioblitz toolkit here and get started today.
Rukmini Kalamangalam (she/her) is a program specialist at NRPA.