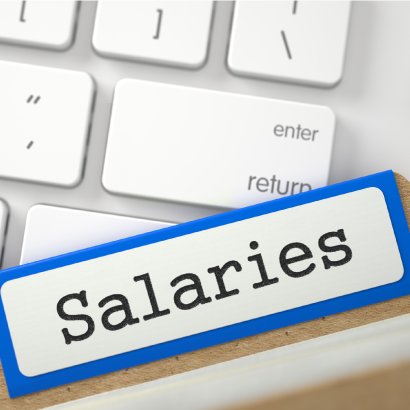 Whether you are recruiting a new member for your team or you are looking for the next step in your career, having compensation data in your hands helps you make informed decisions. This is exactly why we just published the NRPA Park and Recreation Salary Survey report. The 48 page report not only includes salary and bonus data for five park and recreation professions, it also contains valuable information on employee benefits (such as, health insurance, retirement savings and paid time off) and tools that can help agencies optimize their structure so they can best serve their community.
But, of course, the thing that interests most park and recreation professionals is income: namely, base salaries and the size of recent income bumps. The median base salary increased between 2.7 percent and 3.0 percent over the past year for the five park and recreation job titles analyzed in the study. This is resulted in the median base salary, as of January 1, 2017, rising for:
Median Base Salaries on January 1, 2017 and January 1, 2016, and Median Year-to-Year Base Salary Increase
| | | | |
| --- | --- | --- | --- |
| | Base Salary on January 1, 2017 | Base Salary on January 1, 2016 | Median Year-to-Year Percentage Increase |
| Park and Recreation Agency Director/Executive Director/Superintendent | $98,000 | $95,000 | +2.7% |
| Planning Director/Superintendent | $85,290 | $82,000 | +3.0% |
| Director of Finance /Business Manager/Director of Administrative | $83,575 | $77,500 | +3.0% |
| Recreation Director/Recreation Superintendent/Assistant Director-Recreation | $72,000 | $70,900 | +2.9% |
| Park Operations Director/Maintenance Director/Maintenance Superintendent | $70,000 | $68,824 | +2.8% |
But those "headline" numbers do not tell the full story about what your peers make in our industry. Much in the same way that park and recreation agencies differ significantly in their size, programming and facility offerings, the scope of their mission, and funding, they also differ in the responsibilities and (ultimately) compensation of their professional teams.
As a result, we provide a broader snapshot of compensation data, including a presentation of not only the median and average salary for each of the five occupations but also the 10th, 25th, 75th and 90th percentile salaries. In addition, the report also explores the many factors that can impact compensation; including:
What else does the NRPA Park and Recreation Salary Survey report tell us?
Further, there are two other valuable resources in the NRPA Park and Recreation Salary Survey report. First, we developed job descriptions for the five occupations covered in the report, providing your agency with a starting point for when it needs to create or update job descriptions. Second, the report includes staffing organization charts from 20 park and recreation agencies that will help you compare and contrast how your agency is structured with similar agencies. Some of the organization charts are from larger agencies with a vast set of service offerings while others are from smaller agencies.
If you have not already, I encourage you to check out the NRPA Park and Recreation Salary Survey report. Better yet, after you review the report, I hope you will engage with colleagues on your team and with your peers across our nation on how to attract and retain the best employees in the park and recreation field.
Kevin Roth is NRPA's Vice President of Research.

If you're an employer looking to hire a qualified professional for your team, then post your open position on the NRPA Career Center. Now through September 22, 2017 use code 2017CONFERENCE to get 20 percent off an NRPA Single 7-Day Job Posting Package or NRPA Single 30-Day Job Posting Package. Learn why Fall can be a great time to hire new employees.