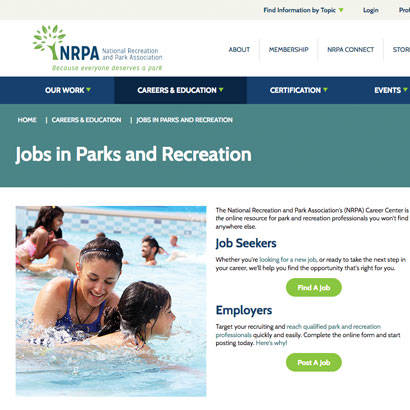 Fall can be a great time to hire new employees. It is also the perfect time to assess your agency's team and find new employees to fill in the gaps. Hiring is a large obstacle to tackle, but starting off right can make the process much easier.
1. Share your open position with 7,000 people — The NRPA Career Center will have a booth (#3257) at the 2017 NRPA Annual Conference in New Orleans, and if you post your open position between August 8 and September 8, it will be featured at the booth. Job seekers will be encouraged to apply on the spot!
2. Fall Job Posting Discount Available — Post your open position starting August 1 through September 22 and use code 2017CONFERENCE to get 20 percent off an NRPA Single 7-Day Job Posting Package or NRPA Single 30-Day Job Posting Package.
3. Career Center Now Integrated with Google's New Job Search Feature — Jobs posted to the NRPA Career Center are automatically searchable through Google for Jobs, creating even greater exposure. The Google for Jobs application appears before Google's standard search results — prioritizing your positions over other employers, job boards and staffing agencies that do not have an established partnership with Google.
4. 1,093 Average Views Per Job — There's no better place to find a qualified park and recreation professional. Employers receive an average of 10 applications per posting. The Career Center provides access to almost 7,000 searchable résumés. There are new resources for employers, such as sample job descriptions, tips to conduct a successful interview and background screening information.
5. Easily Manage Your Applications — After your job listing is posted, it then becomes time to manage all the applications you've received. Stay organized by marking candidates you are interested in and deleting applicants who don't fit the position. Don't forget to check out your job statistics to find actual numbers of views, applications, apply clicks and job forwards.
The NRPA Career Center is the place to help you find your next team member. Be sure to post your open position in time for the NRPA Annual Conference, and don't forget members always get a 33 percent discount on job posting packages. NRPA's own human resources manager, Martin Dease, will be on-site in booth #3257, helping job seekers apply for your open position(s). Now is the time to post your job! Have questions? Contact Hayley Herzing.