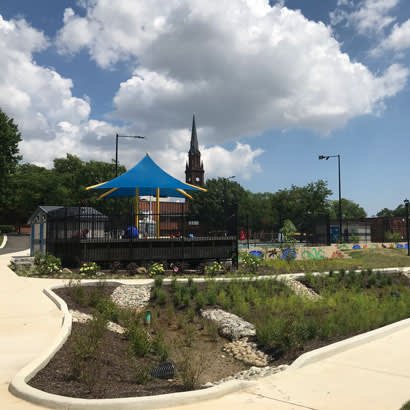 In June 2018, NRPA announced the availability of $2 million in grant funding to support green stormwater infrastructure projects in communities across the country under the Great Urban Parks Campaign. The goal of this grant program was to elevate the role of park and recreation agencies in creating resilient communities by funding innovative stormwater infrastructure projects in parks that improve local environmental quality, increase access to high quality park space that provides multiple benefits to residents, and create a community that is engaged in green stormwater infrastructure solutions.
The 10 selected grantees demonstrate their commitment to ensuring green stormwater infrastructure projects not only address local environmental issues, but also provide the community a sense of ownership over the project through extensive engagement. The projects described below join previously awarded cities to provide additional best practices, effective models and geographic representation of green stormwater infrastructure in parks.
Bernalillo County (Albuquerque, New Mexico)
The 2nd Street Trail in Albuquerque, New Mexico is currently a barren, dirt path that leads the Mountain View community to green space, a community center, an elementary school and ultimately a wildlife refuge. Without barriers between the railroad and traffic, as well as a sewer system, the trail is unsafe and contributes to poor water quality. This project will add greenery through bioswales and trees to provide a barrier for pedestrian safety, make the trail more usable by providing shade, capture and filter stormwater, and create a more visually appealing community asset.
City of El Paso (El Paso, Texas)
A new trail that connects multiple parks currently suffers from poor drainage, leading to deteriorating grass, vegetation and curbs. This project will install three to five bioswales along the trail to manage the stormwater, bring education and connect recreation opportunities to the surrounding residents to encourage physical activity. This will serve as a small-scale case study for the city to encourage more investment in green infrastructure, specifically by hosting a workshop on how they could fund future projects from the long-term road maintenance savings through the improved drainage.
City of Grand Rapids Parks and Recreation Department (Grand Rapids, Michigan)
Ken-O-Sha Park is an important natural area along Plaster Creek in the Grand River watershed and is an essential green space in a community that is underserved in park amenities. Plaster Creek suffers from water quality issues attributed to agriculture, industry and urban runoff. This project will daylight a stormwater outfall and create a bioswale leading to a rain garden to improve water quality entering the creek, as well as serve as part of a larger effort to connect kids to nature. The adjacent elementary school and youth throughout the city will benefit from nature education and employment opportunities.
City of Lake Charles (Lake Charles, Louisiana)
Residents near Hillcrest Park experienced flooding from Hurricane Harvey due to the overflow of Kayouchee Coulee. This project will incorporate green stormwater infrastructure into unused green space at the park to alleviate pressure on the drainage lateral after storm events and serve as a catalyst for similar green infrastructure projects in Southwest Louisiana. In addition to engaging the community around education and outdoor activities, local contractors will go through training workshops to build their skills around green infrastructure construction and maintenance.
City of Memphis Parks and Neighborhoods Division (Memphis, Tennessee)
While McFarland Park is the only greenspace serving the surrounding residents, it is a severely underutilized park as there is no walking path between the amenities, which have not been updated in many years. A large bioswale and several small rain gardens will be implemented on site to control the flooding to the park and community and improve the local water quality. This project will also improve aspects of the park identified through community engagement and include a walking path throughout the green infrastructure features to serve as educational pieces to the community.
Heartland Conservation Alliance (Kansas City, Missouri)
Blue Valley Park is a historic 238-acre park in Kansas City, Missouri, that has been disinvested following the closing of steel businesses. This project will build on the recent effort and investment to clean it up and improve amenities by enhancing the park's flood control and protecting its natural areas. 40 acres of riparian corridor will be restored to provide the community a place to connect to nature. The Alliance will offer training to community members around the long-term maintenance to prepare them for paid seasonal work.
Local Government Commission (LGC) (California)
This project will provide technical and implementation support for three under-resourced communities throughout California to catalyze green stormwater infrastructure projects in parks. Target sites will be selected based on known water impacts as well as public health risks and economic impacts. LGC works with the local community on project design that best suit their needs and build support within the local government to implement future projects.
Louisville Parks and Recreation (Louisville, Kentucky)
Chickasaw Park stands 70 feet above the Ohio River and suffers from degraded nature related outdoor recreation, including a pond designated as impaired. Through Louisville's Engaging Children Outdoors initiative, this project will remove invasive species, restore the river terrace and culvert area and implement a bioswale to not only improve environmental conditions at the site, but improve access to the river and nature education.
Miami-Dade County Parks, Recreation and Open Spaces Department (Miami, Florida)
As a county that is impacted by sea level rise, the agency is moving towards incorporating green stormwater infrastructure in parks to provide multiple co-benefits. Arcola Lakes Park will serve as one of their first demonstration projects. This project will create a bioretention area, bioswale and pervious walking path to mitigate the flooding that this park regularly experiences after rain events. With educational opportunities for youth and tree give away events, the community will be equipped to use green infrastructure techniques at their homes and to advocate for more projects like this across the city to increase resiliency.
New York City Department of Parks and Recreation (Brooklyn, New York)
To decrease the amount of stormwater entering the grey infrastructure system and provide healthy food access to residents, Brownsville Recreation Center's roof will be transformed into a green roof. This space will be free to the surrounding community to use as a gathering space and a place to learn about topics such as sustainability, green infrastructure and bee keeping. Residents will also be engaged in employment opportunities around the long-term maintenance and care of the roof and vegetation.
NRPA's Great Urban Parks Campaign aims to improve environmental and social outcomes in underserved communities through green stormwater infrastructure projects in local parks. The campaign also offers a variety of evidence-based educational resources for park and planning professionals — including A Resource Guide for Planning, Designing and Implementing Green Infrastructure in Parks.
Jenny Cox is NRPA's Conservation Program Specialist.