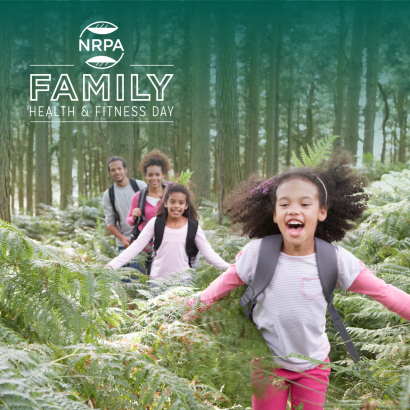 Observed the second Saturday in June each year, Family Health & Fitness Day is a nationwide celebration of the essential role parks and recreation plays in keeping individuals, families and communities healthy and active. This annual campaign is an opportunity for everyone — including park and recreation agencies, community members, healthcare providers, public health communities and sponsors — to discover, embrace and share the power of parks and recreation in promoting family health and well-being.
This year, Family Health & Fitness Day falls on Saturday, June 10, which is just around the corner! How are you planning to celebrate? To help spark some ideas, we developed this short list of ways in which you can celebrate Family Health & Fitness Day in your own community!
1. Enjoy your Local Trails
Take your family for a walk, hike or bike ride on your local park trails. Take your furry friends with you! You can even listen to Open Space Radio's recent episode: Celebrating How Parks and Recreation Keeps Communities Healthy and Connected – Episode 136 to learn more about the importance of this celebration on your adventure. Whatever trail you choose, make sure you follow the rules and trail guidance!
2. Plan a Family Picnic
Farmers markets and community gardens are often managed by park and recreation departments. Pay a visit to your local farmers market to gather fresh fruits and vegetables, learn about nutrition, and exchange meal ideas with your neighbors. Following your visit, host a family picnic in your local park!
3. Connect with Nature
Free up time in your day to enjoy the outdoors and connect with nature! This can be a great opportunity to practice self-care and prioritize your mental health at your local park. Feel free to locate a quiet space, perhaps under a tree, to practice yoga or read a book while breathing in the fresh air. You can even spend time birdwatching or identifying unique plants!
4. Play Sports
Whether you enjoy basketball, soccer, tennis or tossing around a frisbee, head to your local park or recreation center and get active with your family and friends! Participating in team sports is a great way to socialize with your neighbors, while also engaging in a bit of friendly competition.
5. Visit the Park Playground
Take a trip to the playground or a natural play space for fresh air, fun and time well spent with your littles! Enjoy the slides, swings and seesaws with your family.
6. Explore the Water
If you live near water activities, spend the day kayaking, paddleboarding, fishing or canoeing! You can even go for a swim or splash around with friends and family.
7. Attend Events at your Local Park and Recreation Agency
Nationwide, participating agencies will be hosting family health and wellness fairs, fitness programs, and additional unique celebrations to invite and encourage community members to get active at their local park or recreation center on June 10! Reach out to your local park and recreation agencies to learn more about the events they may be hosting on Family Health & Fitness Day.
There are many unique ways in which you can celebrate Family Health & Fitness Day in your local parks. We hope these examples fuel creative ideas for you, but most importantly, we hope you partake in the activities that bring you the most JOY.
As you celebrate your favorite activities on June 10, we encourage you to share your photos and stories with us! Be sure to tag NRPA on Facebook, Instagram, Twitter and LinkedIn and use #NRPAFamilyHealthDay to show us how you're celebrating! We are eager to see how you choose to celebrate this special day with NRPA.
*If your organization is interested in hosting a Family Health & Fitness Day celebration in your community, it is not too late! Check out our 2023 Family Health & Fitness Day Outreach Toolkit and Informational Webinar for guidance and support.
Cina Makres (she/her) is an NRPA program specialist.