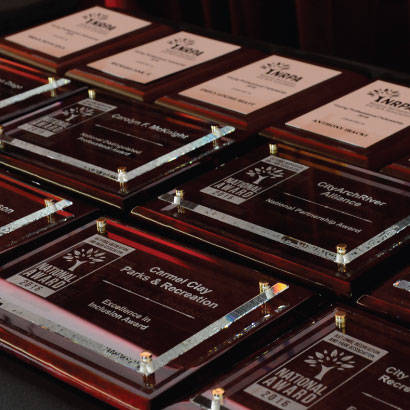 Awards season has arrived at NRPA! This year, NRPA is offering 11 National Awards (five individual awards and six agency awards), seven Gold Medal Awards (five based on population, one for armed forces recreation and one for state parks systems) and the Robert W. Crawford Hall of Fame. Winners not only receive bragging rights for their agency, they are also recognized at the NRPA Annual Conference in New Orleans, September 26-28, 2017.
While many will enter, only a few will win. Here are some tips to help you and your agency achieve awards success:
Tips for Awards Success
Ask for help. Do you know a past winner? Many of our recipients are eager to share their applications and experience and are happy to serve as mentors to guide you through the process. You can view past Gold Medal winners here.


Manage your time. Applications are due March 12, 2017. Plan ahead and allow yourself plenty of time to put together a thoughtful application. It is helpful to have the application reviewed by a friend or co-worker prior to submitting.


Brag a little. If you have developed a program or participated in an event you are proud of – let the committee know! This is the time to celebrate your achievements.


Read the fine print. Understand the eligibility criteria and make sure you qualify. Read each question carefully to make sure your answer fits. Forgetting a required element can get your application disqualified.


Review, review, review. Don't hit submit until you have carefully reviewed the application several times and have a different set of eyes take a look.


Make a copy. Since the application is submitted online, it is helpful to have your answers saved in another program in case of a browser crash. These answers can also be helpful down-the-road with employee reviews, council meetings and more!


Make it a team effort. Your agency has many programs, parks and facilities and it takes a team to make everything work. Include your team in choosing what award to apply for. The program you are most heavily involved with may not be the best one to submit. Make it a team decision!
Jennifer Stromberg is NRPA's Awards and Accreditation Manager.