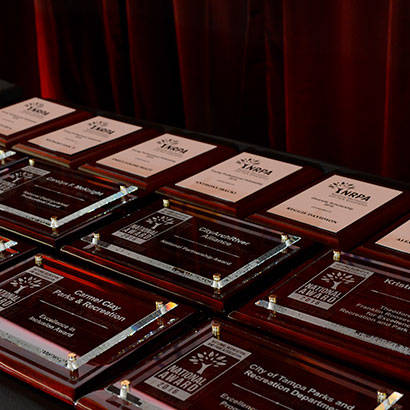 NRPA National Awards are presented to individuals and agencies to honor their efforts — both professional and personal — in the field of parks and recreation. Recipients are selected by the Awards & Scholarship Committee and are chosen for excellence in a variety of topics, including professional and voluntary service, programming, leadership, research and public outreach.
The NRPA National Awards include 11 awards. The categories and criteria have been designed to be inclusive and significant to park and recreation.
Applications for the 2017 National Awards are now closed. Application information information for 2018 will be available in early January, 2018.
2016 National Award Recipients
Individual Awards
Robert M. Artz Citizen Advocacy Award
David Nigel, San Bruno, CA
Robert W. Crawford Young Professional Award
Tiffany M. Johnson, Seattle, WA
RWJF-NRPA Award for Health Equity
Steve Elliott Marcus, Miami, FL
National Distinguished Professional Award
Carolyn McKnight, Baton Rouge, LA
Theodore and Franklin Roosevelt Award for Excellence in Recreation and Park Research Award
Kristi M. Fondren, Huntington, WV
Agency Awards
Excellence in Inclusion Award
Carmel Clay Parks & Recreation, IN
Excellence in Innovative Programming Award
City of Tampa Parks and Recreation Department, FL
Facility or Park Design Award
Bend Park and Recreation District, OR
Barb King Environmental Stewardship Award
Fairfax County Park Authority, VA
Kudos Marketing Award
County of San Diego, CA
National Partnership Award
CityArchRiver Alliance, St. Louis, MO
For additional information contact awards@nrpa.org