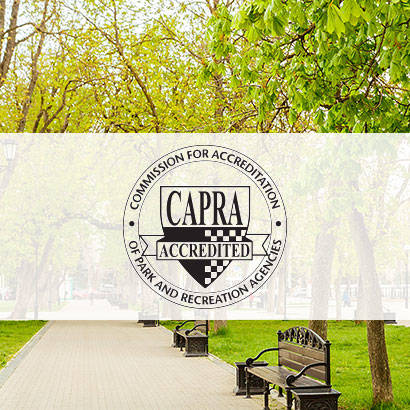 The Commission for Accreditation of Park and Recreation Agencies (CAPRA) accredits park and recreation agencies for excellence in operation and service. Charged with providing high quality services and experiences, park and recreation agencies across the United States turn to CAPRA Accreditation as a credible and efficient means of achieving these goals, while providing assurance to the public that the agency meets national standards of best practice. Agency accreditation is available to all entities administering park and recreation systems, including municipalities, townships, counties, special districts and regional authorities, councils of government, schools, and military installations. Read an overview of the CAPRA Accreditation process or discover the many benefits of CAPRA Accreditation.
CAPRA Resources
CAPRA Standards 2014 (5th Edition)
The Commission has reviewed and approved the CAPRA Standards 2014 (5th Edition). All non-military CAPRA visits are required to use these Standards. Military agencies with CAPRA visits will be held to the 2010 CAPRA DoD Standards.
Training on the new standards will be offered through recorded webinars and live chats.
Announcements
The CAPRA Memos, sent following the Commission's spring and fall meetings, are distributed to all accredited agencies, applicants, and CAPRA visitors via email.
Agency Accreditation Community
NRPA Connect hosts an open discussion group for Agency Accreditation. This group is open to anyone interested in accreditation, pursuing accreditation, and for those already accredited. Use the group as a tool:
Share accreditation documents or request examples (plan, policies, procedures, etc.)
Network with other agencies going through the process
Accredited Agencies
There are currently 155 accredited park and recreation agencies in the United States. Are you here?
For direct assistance, please email CAPRA@nrpa.org or phone 703.858.2155.