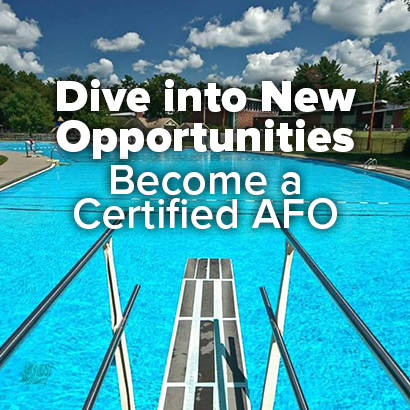 THE MOST COMPREHENSIVE AQUATICS CERTIFICATION
Operating an aquatics facility is about more than just water quality. The Aquatics Facility Operator (AFO) Certification will help you or your staff better understand the entire pool system and run all types of aquatic facilities safely, efficiently and confidently. The AFO program provides the most comprehensive and up-to-date training on operations, mechanical systems, water chemistry, disinfection, safety and much more.
Why Become an AFO?
What Do Other AFO's Think?

"I really enjoyed the AFO Certification Course and took a lot of good information from it that I know I can use at work. This course and the instructor were able to put the information into terms easy to understand and remember."

-- Former AFO Student
How Do You Become an AFO?
Applying to become an AFO only takes a few steps and there are courses offered all over the country. Use the following resources to better understand the certification process:
For more information about the AFO Certification, please contact Education Program Specialist Matt Cowan by email or by phone at 703.858.2186