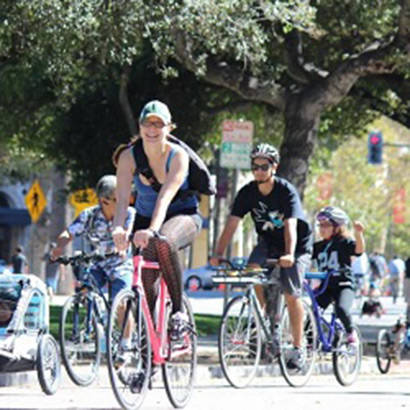 Viva CalleSJ is an innovative and free program that temporarily closes miles of San José streets to bring communities together to walk, bike, skate, play, and explore the city like never before. The inaugural event was held on October 15, 2015, in Downtown and Eastbound San José. Six miles of city streets were closed to cars and opened up to the community for activity. Participants choose to be active starting anywhere they liked along the 6 mile stretch and keeping the flow moving just like regular traffic. Official estimates by the City of San José were that more than 35,000 people of all ages and abilities filled the streets to walk, bike, skate, and play.

Inspired by similar events in Columbia (Ciclovia) and Los Angeles, CA (CicLAvia), San José's event provided the freedom to play in the street, and also incorporated several community activities and performances including a heroes ride tribute to a fallen police officer, outdoor public library services, special stops at the zoo, a chalk art display, musical performances, theatre and art group performances, a yoga class, a display of the Bay Area Super Bowl Vince Lombardi Trophies, a STEM zone and more!

Getting more than 40,000 cars off the street is no easy task. The program was a product of collaboration from multiple groups. It was funded by the John S. and James L. Knight Foundation, organized by the City of San José's Department of Parks, Recreation, and Neighborhood Services in partnership with Silicon Valley Bicycle Coalition, and supported by the San José City Council, San José Police Department, the Department of Transportation, the Office of Cultural Affairs, and countless community supporters. It was a true collaborative effort that resulted in bringing together an entire community to celebrate the city.

In addition, a number of organizations contributed to Viva CalleSJ's success through sponsorships and volunteer efforts. The city credits those involved as the event would not have been possible without their support, time, and hard work.

The event was so successful that the City of San José and partners are working hard to generate the revenue needed to conduct another Viva CalleSJ. You can find more information on the next event at www.vivacallesj.org.