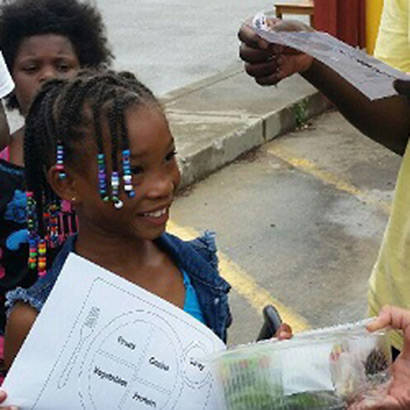 USDA's Child Nutrition Programs provide healthy and nutritious food to children at need in an effort to fight hunger and reduce child obesity across the country. In addition to providing educational and recreational programming for youth, local park and recreation departments are also the largest providers of these meals programs during out-of-school times (summer and before and after school). In Indianapolis, Indiana, this certainly holds true. The USDA Child Nutrition programs are making a huge difference in the city of Indianapolis and in the lives of hundreds of families at need.

In 2014, the city of Indianapolis took extraordinary measures to significantly expand their after school meals and snack program. Indianapolis Parks and Recreation built upon their already thriving Summer Food Service Program and expanded their role as a meal provider to participate in USDA's Child and Adult Care Food Program.

Though the process took some time, the city was able to hire an after-school program coordinator to directly oversee the expansion of their meals program, from the paperwork to the implementation. During the first year of the expansion, Indianapolis was able to recruit over 20 additional sites to participate in the CACFP program. Staff focused on training sites and staff, scheduling food deliveries, meeting with the Department of Education and working with various vendors on providing healthier food options. In addition to recruitment of new sites, the city also focused on marketing the programs to the communities at need. They used strategies such as purchasing yard signs, banners, and door hangers to showcase the program in a positive light and spread the word across communities. Their efforts were quite successful.

In just one year with the addition of CACFP, Indianapolis is now operating meal service at over 150 locations city-wide. They went from serving 18,000 meals/snacks in the Spring of 2014 to 69,882 meals/snacks in the Fall of 2014, and increase of more than 50,000 meals! Combining these numbers with their summer meal program, the agency served almost 350,000 meals to 2,550 individual children-- children that would normally go hungry or be snacking on junk food in the summer and after school. These meals play a critical role in providing these 2,550 children with the nutrients and whole grains that they need to grow and develop, as well as enhancing their mental and emotional well-being. Indianapolis Parks and Recreation was so thrilled with their numbers, they are able to fund the after-school coordinator position for 2015 as well and hope to continue to expand their program.