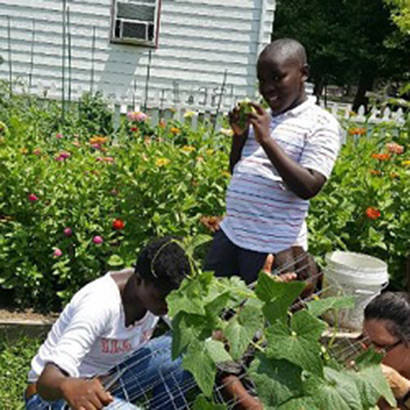 "Please send me kids that can share my garden with the community," prayed Dana Caley as she stood on the soil that had previously not been successful as a community garden. Quincy Teen REACH was the answer to her prayer--a partnership which resulted in at-risk kids becoming gardeners and Dana's harvest being more than vegetables.
Quincy Park District and Quincy Teen REACH opened a new site at the Frederick Ball Community Center in June 2016. A grant from the National Recreation and Park Association and Walmart Foundation in conjunction with USDA's Summer Food Service Program provided the resources to serve a noon meal and afternoon snack. Participants enjoyed days filled with crafts, recreation and learning camouflaged by dirt and "cool plants".
The garden project began during the school year and continued through summer. The after school program planted seeds in small pods in early spring and watched them grow in their man made green house. "I didn't like getting down in the dirt with the ants and bugs and itching," Kenitha Rideout stated. "I thought I wouldn't like gardening because I would get dirty. It was easy but took a lot of patience"
In addition to having corn, tomatoes, onions, cucumbers, peppers, radishes, zucchini, pumpkins and flowers in Dana's garden, Quincy Teen REACH also started an AeroGarden. The AeroGarden is a self-contained, indoor aeroponic (form of hydroponics) gardening appliance. The AeroGarden uses aeroponics, a technology where plant roots dangle in the air and are drizzled with water and nutrients to simulate a perfect growing enviorment for plants. The AeroGarden system provides the optimal amount of light, nutrients, water and air at the right times to produce optimal growth. The end result is lightning-fast growth, much faster than if you were to plant and grow in rich potting soil or dirt. In fact, it has been proven that the AeroGarden grows twice as fast as if you planted in dirt. Lettuce from the AeroGarden was tasted in comparison to lettuce from Dana's garden. "It tastes different. The lettuce from the garden was better,' said Kenitha.
Plowing, planting, weeding and watering the plants finally resulted in vegetables to eat. How to cut, cook and eat the vegetables was highlighted twice a week in the kitchen. "No one wanted to try the grilled zucchini but after everyone had to try a sample it was quickly eaten." said Dennis Williams, Program Director. "Fresh peppers, cucumbers, and tomatoes were served at the end of summer family event." The pride in their achievement was evident when the little kids didn't want to talk. They actually wanted to do something when it came to gardening and preparing vegetables. Corn on the cob was served during Quincy Teen REACH's August camping trip. Produce was given to families with excess sold at the local farmers market.
Dana's answered prayer to share her garden with kids and the community surpassed her expectations. Besides the garden having a successful harvest the kids learned life-long lessons about gardening and that vegetables actually taste good.