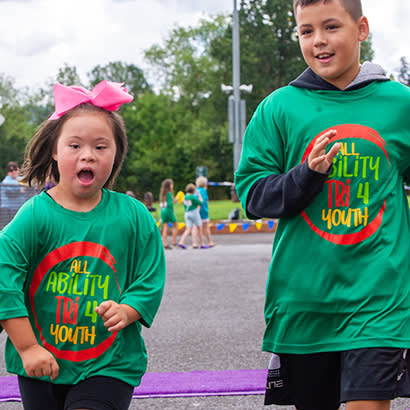 No one sits on the sidelines at the All Abilities Tri4Youth. For the second year, Tualatin Hills Park & Recreation District (THPRD) and FACT Oregon proudly hosted the safe, fun, fully-accessible race that emphasizes inclusion.
The only event of its kind in the region, Tri4Youth gives participants ages 8-26 the chance to compete in a triathlon. Athletes swim 50 yards, bike two miles and run a half mile on a fully-accessible course. They can compete on their own or as part of a team made up of friends and family. Use of adaptive bicycles, rafts, and other equipment is allowed.
The innovative program is a result of a public/private partnership between THPRD and FACT Oregon, an advocacy and leadership organization, empowering Oregon families experiencing disability in their pursuit of a whole life by expanding awareness, growing community, and equipping families. Executive director Roberta Dunn approached THPRD in 2016 after learning about a similar event, the Tri For Inclusion, held in Lehigh Valley, PA.
"FACT Oregon created the All Ability Tri4Youth because too often, youth experiencing disability face exclusion from community sports and its associated social activities, either intentionally or by default," she says. "Families and community members need opportunities to see these young people in a new context, setting their own goals and working to achieve them. All people deserve the opportunity to test their capabilities, feel the pride of physical achievement, and develop lifelong healthy habits."
The partnership was a natural fit for THPRD. Removing barriers to participation for our diverse population remains integral to our mission. We have adaptive and inclusive programs and outreach like translation services, gender-neutral restrooms, multicultural events and multilingual signage. We also opened Mountain View Champions Park in 2017. The 21.5-acre, completely accessible park features Champions Too, Oregon's first athletic field designed for people of all abilities and a 6,500-square-foot inclusive playground.
This event, however, took place at our Howard M. Terpenning Recreation Complex. The 92-acre complex has been holding family triathlons for over a decade. The ready availability of a fully-accessible course, however, was only part of FACT Oregon's decision to partner with us.
"We chose THPRD because of their focus on safety, fun, meeting each family's needs and working toward increased accessibility," recalls Dunn.
THPRD took a leading role in coordinating the 2017 Tri4Youth. The district recruited volunteers, provided adaptive equipment and staffed the successful event where some 98 athletes participated. This year FACT Oregon took a more significant role. They recruited volunteers, took the lead on fundraising and organized sponsorships. They also recruited agencies who serve individuals experiencing disability to participate by hosting a table at the event.
2018's Tri4Youth grew to 153 participants. Many, like Carol Bunten's two children, were repeat athletes. Why did the family come back? "It's hard to find events where the kids feel empowered," says the mother of the 8.5 and 11-year-old who both experience disability. Last year Bunten's husband competed with the kids while she volunteered on the course. "I cheered and cried and cheered some more," she recalls.
This year they swapped roles. "It's my turn to race," she says with a smile.
There were plenty of first-timers too, like 15-year-old Michael Hasler. Michael, who was accompanied by his parents Sid and Sue, mastered riding a bike just two months before the event. "As soon as he got it he wanted to be in a race," says his father.
"I just want to compete and have fun," Michael reports.
Dunn predicts more athletes competing and having fun in years to come. "We envision families across the state traveling to the Beaverton area for this one of a kind triathlon," she says. "We are excited to work with community partners to grow a sports model that welcomes all children and demonstrates that physical activity, play, and sports can be inclusive AND a highly valued part of everyday life."
Julie Rocha is the sports department manager for Tualatin Hills Park and Recreation District.