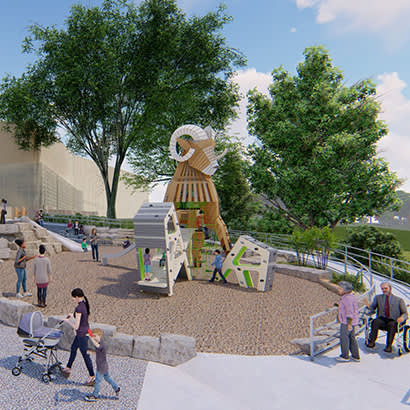 For an enhanced digital experience, read this story in the ezine.
Picture visiting your local nature and science museum. What comes to mind? Chances are, you aren't picturing an immersive outdoor experience in a massive public park, but that's just what is happening in the heart of Colorado as the Denver Museum of Nature & Science (DMNS) reimagines the museum experience for a new generation.
The museum recently broke ground on an ambitious new project aimed at bringing the award-winning Explore Colorado dioramas at DMNS to life as an immersive nature experience designed for accessible, multigenerational and multisensory exploration, respite and play.
The vision for this immersive experience is the result of a unique partnership between a cultural institution and a park and recreation department. Together with the DMNS team and Denver Parks and Recreation (DPR), our team at Dig Studio will restore a historic waterway in the heart of Denver while showcasing the diversity of Colorado's ecosystems through museum-quality natural features and play experiences.
Creatively Garnering Community Input
Community input is a key driver in any public design process, so despite complications wrought by the pandemic, in spring 2021, DMNS and the design team secured input from more than 800 community members throughout a month-long design and outreach phase that included highly creative (physically distant) hands-on take-home kits that allowed children and families to design their ideal nature play area using art supplies.
Feedback indicated a strong desire for play experiences that would bring the bounty and diversity of Colorado's natural environment to visitors who may not be in a position to explore much beyond their neighborhood.
This input led to the prioritization of inclusive, multigenerational opportunities for learning, respite and engagement through authentic, natural play elements, including climbing, jumping and sliding features, as well as the incorporation of water.
Translating the Museum Experience Outdoors
With these guiding priorities in mind, the design team collaborated with curatorial staff on replicating Colorado's diverse habitat zones within a durable, ADA-accessible outdoor play area while reflecting the same level of scientific rigor and authenticity as the museum itself in serving as an extension of its educational programming.
Dig Studio's team thoroughly researched, catalogued and synthesized information on nine distinct Colorado habitat zones with the goal of re-creating the experience of each zone through materials, plants and play events. DPR's maintenance and forestry teams, which will be responsible for the health and maintenance of the play area and its plants and urban canopy, were deeply involved in this process.
Creating experiences that recalled distinct habitat zones within the park's existing ecology was not without its challenges. Aspen trees, while emblematic of the montane landscape, are difficult to maintain at Denver's elevation, for example, so the design team instead used Tulip Poplar trees to create the feeling of being in an aspen grove. In other areas, accuracy was critically important to the curatorial team. Great care went into choosing specific rock and plant materials, including acquiring the whitest marble on earth from Marble, Colorado, for the experience. The sloping site was further leveraged to showcase the alpine-to-grasslands concept.
In keeping with the museum's goal of inspiring a sense of discovery and creating interactive moments of delight, Dig worked with local artist Chainsaw Mama to highlight the iconic animal species found in each habitat zone. Benches along the path are carved into a beaver family or a butterfly emerging, creating joyful route-markers that ideally will serve as memory points for visitors.
Leveraging the Waterway as a Teaching Tool
Perhaps the most important change to the site was the restoration of the historic waterway. Public feedback had indicated a strong desire for incorporation of water into the design, but stringent Colorado water laws necessitated close collaboration with the Denver Department of Public Health, Denver Water, and DPR maintenance and irrigation to determine what form that would take. The decision was made to ensure water was always visible and audible, sustaining plant life along the corridor, but not directly interactive. Water is drawn up from the city ditch and joined by flow from the storm drain at the head of the historic waterway. The new continuous water flow from the ditch supports the existing tree canopy and new riparian plantings — in addition to restoring a waterfall and creating a richer habitat with playful boulder, log and bridge crossings. The restored waterway will serve as both an educational tool and a celebration of Colorado's diverse habitats.
Laurel Raines is Founding Principal and President at Dig Studio. Gretchen Wilson is Founding Principal and Partner at Dig Studio.