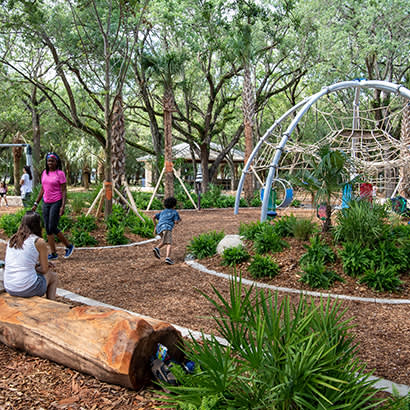 For an enhanced digital experience, read this story in the ezine.
Playgrounds form natural community hubs and foster discovery, connection and joy. When located within parks and open spaces, playgrounds invite children and families to connect with nature and roam beyond the designated playground area. Building on this natural connection, Miami-Dade County Parks, Recreation and Open Spaces (Miami-Dade Parks) reimagines playgrounds to be eco-based, using a proven design approach that not only creates opportunities for community building, but also provides avenues for outdoor learning and development of environmental awareness. "Playgrounds are an integral part of kids' lives," says Maria I. Nardi, Miami-Dade Parks director. "Our nature-based playgrounds provide children with the opportunity to reconnect to nature through play. They are dynamic play spaces that advance our goal of improving quality of life for the community while building the next generation of parks stewards."
With an innovative mindset and climate-conscious vision, the county continues to implement its nature-based playground initiative by employing such elements as slides that slope along natural topography; sustainable materials that weather Florida's rain, wind and storms; robust plantings that fit the county's distinct environmental zones, like marshes and coastal areas; and earthwork mounds that playfully sculpt and define each site.
Miami-Dade Parks' nature-based playgrounds benefit children's health and wellness, inviting them to be active and social, and increase equitable access to nature and play. Keeping all children in mind, Miami-Dade Parks' eco-based playgrounds incorporate quiet zones for children with autism spectrum disorder and that meet the accessibility requirements of the Americans with Disabilities Act. Eco-based playgrounds attract pollinators, encouraging community members to learn about local plants and wildlife. Children traverse tree roots and navigate zip lines, slides, climbing ropes and other features in expansive play areas under natural shade canopies that grow freely in open play areas. Miami has a high heat index most of the year, so the natural materials offer safer and cooler surfaces for playground goers, and the trees shade children and families from heat and ultraviolet rays.
When planning a new nature-based playground, Miami-Dade Parks ensures alignment with the goals and principles of its community-based Parks and Open Space System Master Plan, a 50-year vision for a seamless, sustainable model park system that complements the natural and cultural landscape and generates multiple benefits to the community. The county continues to advance equitable access to nature and healthy spaces for recreation in all communities regardless of income, ability and location. Great places to play are no exception. Beyond play, the resilient design facilitates stormwater mitigation and reduces heat through increased tree canopy, ultimately bringing environmental, social and economic benefits to the community.
Miami-Dade Parks earned a 2021 American Planning Association Gold Coast Award of Merit and 2022 American Society of Landscape Architects Florida Design Award and was featured in the 2022 Florida Recreation and Park Association Facility Showcase for its nature-based playgrounds. Miami-Dade Parks continues to find new ways to integrate nature and ensure all members of their community can access the health and wellness and social benefits of nature and recreation.
Moving toward a greener future, Miami-Dade Parks brings nature directly to its community members, reminding adults and teaching children why we should come together to protect nature for future generations through connective, healthy play.
Maria Debye Saxinger is PROS Master Plan Manager for Miami-Dade County Parks, Recreation and Open Spaces Department. Rachael Kardys is PROS Park Planner 3 for Miami-Dade County Parks, Recreation and Open Spaces Department.