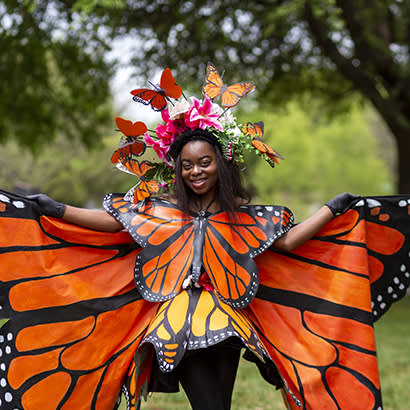 For an enhanced digital experience, read this story in the ezine.
Exploring racial equity in parks and recreation
Since 2013, equity — originally social equity — has been one of NRPA's Three Pillars. NRPA created these pillars — Health and Wellness, Equity, and Conservation — to move the field from communicating what we do to focusing on the impact we have. The past three years have allowed us to build out the Equity Pillar through conversations, learning opportunities and research, much of which is reflected in the 2021 Diversity, Equity and Inclusion in Parks and Recreation Report. Four needs emerged from this national survey of park and recreation leaders: targeted support for smaller agencies; building member capacity and competency in diversity, equity and inclusion (DEI); best practices and peer networks; and trusted resources. All serve as the foundation for NRPA's DEI strategy in the field as we advance our mission to "enhance the quality of life for all people."
NRPA supports equity through its Equity in Practice (EiP) initiative. To create a future where everyone has fair and just access to public spaces and feels welcome, we need to act. Equity requires practice, patience and a commitment to progress. EiP provides professionals opportunities to put equity into practice in a variety of settings and ways, helping members to increase their knowledge around centering equity and practice the necessary skills to advance equity in our communities.
EiP Talks and Clinics are a one-stop-shop of live and on-demand sessions presented by subject matter experts in the field, sharing their experience and what DEI practices are working in their agencies and communities.
The DEI Leaders Network and State Affiliate DEI Network host bimonthly calls and NRPA Connect groups to facilitate peer learning, connection and support.
The EiP Certificate is a series of three "train the trainer" curricula, designed specifically for park and recreation professionals, focused on skill building and practice and culminating in a completed equity action plan. With the completion of the three certificates, agencies will have the option of taking the curriculum home to use for staff community partners.
The EiP Resource Library contains curated resources — including toolkits, podcasts, articles and books — that support individual and group learning.
Getting Started
Our first EiP Certificate, "Exploring Race Equity in Parks and Recreation," uses a race equity lens to examine the ways that various identities are marginalized, specific to the experience and needs of park and recreation professionals. Through reflection, small group work and skill building, this 12-week (six live, two-hour sessions) program moves participants from awareness and talking about equity to understanding what change and action look like in the field. Lessons focus on participants' sphere of influence, or the area within the agency an individual has power in and over. This helps individuals, regardless of their role or level of seniority, focus on the resources and influence they have and start where they are.
First Impressions
Between February and June of 2023, NRPA piloted this curriculum with three cohorts of 16 to 20 professionals across the country. As we work through evaluation and feedback to adjust the curriculum to offer the next program in the fall, following is some of the feedback we received from park and recreation professionals who participated in the program and what they plan to do with the knowledge and skills they gained.
Cindi Wight (she/her), M.R., CPRE, director of Burlington (Vermont) Parks, Recreation and Waterfront, shares:
"The EiP experience broadened my understanding of racial equity specific to parks and recreation. Going through it in a cohort [of people] with different lived experiences provided more depth than I anticipated. Based on the experience, I added a 'DEI moment' to our leadership meetings to be more intentional about our DEI work, and I plan to start on the health equity framework (one of the resources/tools given to participants) in the fall."
Robin Rowe (they/them), a Round Lake Area (Illinois) Park District dance instructor, explains:
"Not only did the Equity in Practice Certificate Program help me learn new ways in which to be inclusive within my own agency, but it also encouraged me to take steps toward equity regardless of my position in my agency. Also, it helped me begin to sketch out a comprehensive program at our [p]ark district. All of the resources used helped provide a baseline for our action plan. The live sessions were informative, as well and helped us get to know perspectives from all over the country, giving us deeper understandings of under-represented groups within our community and any communities we come in contact with throughout our lives."
Indianapolis Parks and Recreation Chief Strategy Officer Kavita Mahoney states:
"Participating in the Equity in Practice Certificate allowed me to connect with and learn from equity practitioners in the parks and recreational field specifically. It was extremely helpful to have a network of colleagues across the nation who are facing similar challenges so we can share resources, engage in conversations and work together on projects. The people and resources I connected with through this guided program were very valuable, and I appreciated the collaborative nature of the EiP program."
Bronwen Mastro (she/her), PLA, LEED BD+C, a landscape architect for the Bend (Oregon) Park and Recreation District Office, says:
"I appreciate the parks and recreation focus embedded in the EiP Certificate. It's what sets it apart from other, more general equity training. It was great to build relationships with other folks from my cohort and extend my network of peers across the country. A colleague from our state affiliate and I have been discussing how we can team together to bring this information to other agencies across the state once we complete the entire program."
Tricia Diaz (she/her/hers), OOC P&E equity hub coordinator for Seattle Parks and Recreation, shares:
"I was in the [third] cohort of NRPA's Equity in Practice Certificate. I completed the USF DEI certificate program, and others, but this program is specifically geared toward park professionals. I found the information extremely relevant, up to date, and useful in our work. The format was effective to have in-depth reading and exercises to prepare for each discussion group time. The small group breakouts were also beneficial to not only network, but also gain ideas and examples of what other cities are doing around the country. The program ended with equipping us all to create specific equity work plans. The exercise challenged me to create four different areas of focus with specific next steps for each. The work plan helped me feel like I don't have to solve all the problems myself. I have listed all of the meetings and people to meet with to help bring in accountability from our organization as a whole. [I really] appreciate the opportunity to take the program and put it into practice to help reduce barriers and dismantle systemic racism."
Olivia Salazar de Breaux (she/her), equity, inclusion and belonging specialist for City of Olympia (Washington) Parks, Arts and Recreation, says:
"The first cohort of the Equity in Practice Certificate allowed me space to dive in a little deeper on diversity, equity, inclusion and belonging topics — such as language, history of equity within this industry — and what equity could look like in our parks spaces and within our organizations. I especially appreciated the ability to be part of a community of practice with other colleagues across the nation, building a stronger network and learning from one another."
Tracey Crawford, executive director of the Northwest Special Recreation Association in Illinois, explains:
"As a DEI trainer myself, I readily absorbed all of the training ideas and the instructors' unique styles of implementation. After each session, I began to think of ways I could use this information to better deliver the concepts of diversity, equity and inclusion to create a sense of belonging at my agency as the [e]xecutive [d]irector and as a leader on a state level at my state association. What I also loved about this training is the open dialogue and opportunity to discuss how we, as advocates and allies, might approach some of the resistance around the concepts of DEI.
"On a personal level, I started to examine where I need to grow in my own DEI knowledge and expertise. This learning opportunity allowed me the chance to focus on my own personal beliefs and depth of my understanding [of] diversity, equity, inclusion and racism. The trainers were personable and I wish that there was more time built in to share in a big group. I learned so much from my other colleagues and the trainers sharing."
Andy Stahr, senior administrative services coordinator for Gastonia (North Carolina) Parks and Recreation, says:
"The Equity in Practice (EiP) Certificate Program guides you through the history of racism and puts the onus back on us to understand where [p]arks and [r]ecreation professionals fit in the fight for equity. The program gives you tools to identify and address inequities in our communities. The trainers and peers in this program helped me see that it's not always a lack in effort in trying to do the right thing, but sometimes not knowing how to do the right thing that holds our communities back. This program has given me added confidence, and resources, to make positive changes (with the acknowledgment that mistakes may be made along the way)."
Luz "Tammy" Martinez, public relations specialist for Palm Beach (Florida) County Parks and Recreation Department, says:
"The Equity in Practice (EiP) Certificate Program provided me with insights and skills to address equity challenges in parks and recreation. Exploring the historical context, systemic barriers and implicit biases that have shaped this industry allowed me to understand some pressing issues marginalized communities face. Participating in this cohort allowed me to engage in meaningful and insightful conversations with my peers, enabling the exchange of experiences that broadened my perspective of equity in parks and recreation from the viewpoint of others. Since completing this program, I have integrated EiP tools into my communications and marketing profession by continuing to create a more inclusive narrative that resonates with diverse audiences, amplifying the voices of underrepresented groups, and design campaigns that are accessible and relevant to diverse communities.
"The EiP Certificate was an amazing learning experience. The facilitators and cohort provided a safe environment to learn and grow while tackling essential topics. The Equity Action Plan was the tool that I needed to take the next step both personally and for my agency."
City of Greensboro, North Carolina, Facilities Coordinator Chamreece Diggs says:
"My experience in the EiP Certificate was more than expected. The educational components were thorough and well-coordinated. The sessions were planned to build from one to the next making the content easy to follow. All of the resources [and] toolkits and [the] action plan template added to the learning experience. The thing I appreciated the most about the EiP Certificate Program was the community building. Sharing stories, hearing others' experiences and growing our support for each other was priceless."
What's next?
From these reflections, we see that having both conversations and skill building centered in equity is useful. However, what really sets EiP apart is its focus on how race has impacted the field and how equity can be applied in a park and recreation setting.
During the summer, we reviewed feedback from the pilot and adjusted the curriculum for a new cohort that will begin in October, with another three being offered in 2024, and the launch of the second curriculum in the three-part series, "Pursuing Race Equity in Parks and Recreation."
For those of you looking for shorter, self-led ways to learn more, be on the lookout for our "Quick Guides to DEI" and a storytelling series, "Where to Start," during which we will give folks in the field 10 minutes to share how a simple, consistent action impacted diversity, equity or inclusion in their programs.
Autumn Saxton-Ross is Chief Education and Equity Officer at NRPA.