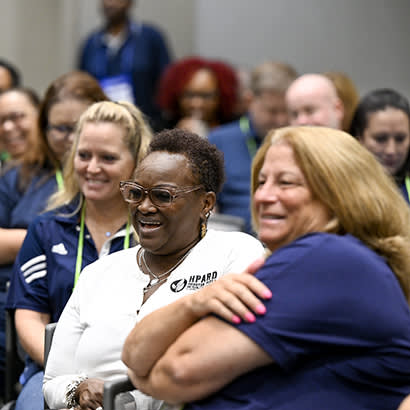 For an enhanced digital experience, read this story in the ezine.
If equity and inclusion are topics you're hoping to learn more about during the 2023 NRPA Annual Conference, here are just a few sessions you may want to add to your schedule during your time in Dallas.
Fighting Transphobia in Youth Sports: A Roundtable Discussion
Tuesday, October 10, 2:30 p.m. - 3:30 p.m. CDT
Speaker: Cal Dobbs
Reaching more than 40 million youth each year, park and recreation professionals are well-positioned to lead the fight against transphobia in youth sports. More than 30 percent of transgender youth ages 13 to 17 live in states that have laws preventing youth from participating in sports consistent with their gender identity. Embodying inclusion demands that no one is excluded or is required to face additional scrutiny to participate fully in park and recreation spaces, programs and services, including youth sports.
Join this interactive, roundtable-style discussion with NRPA staff, athletes, and park and recreation professionals to discuss strategies for building positive environments that ensure transgender youth can participate fully and fairly in youth sports.
Uncomfortable Conversations With Park and Recreation Professionals
Wednesday, October 11, 1 p.m. - 2 p.m. CDT
Speakers: Neelay Bhatt, Barbara Hernandez, Dequel Robinson and Tiff Cunin
In today's world, with tailored social media messages and algorithm-driven news feeds, the otherization of people based on stereotypical representation of gender (or gender identity), race, ethnicity, sexual orientation, religion, language spoken, immigration status and more keeps growing, resulting in increased polarization. This session builds on the need to create safe spaces for uncomfortable conversations that allow people to hear what others have to say without defaulting to stereotypes. It aims to challenge people to step away from their digital echo chambers to meet people where they are in the real world.
This is where fellow professionals across spectrums will share their truth, answer questions that people thought they'd never ask and remind us to think beyond our differences and focus on our "why": to impact people's lives every single day through parks and recreation.
Neurodiversity and Inclusive Workplaces: Insights From Park and Recreation Professionals
Wednesday, October 11, 2:30 p.m. - 3:30 p.m. CDT
Speakers: Kande Jones, Tammy Schwab, John McGovern and Dave McDaniel III
Learn how to foster a safe and welcoming environment for all employees. During this panel discussion, you'll hear from park and recreation professionals who identify as neurodiverse and have firsthand experience working in the field. Join this conversation as our panelists explore how to find workplace champions and allies, individual strengths neurodiverse professionals bring to their work, and the strategies and accommodations that have helped them succeed. They also will offer suggestions for how organizations can better support and include neurodiverse individuals in the field, from hiring and training practices to workplace accommodations and accessibility.
Environmental Justice and Park Equity: Restoration, Regional, Rural and Race
Thursday, October 12, 9 a.m. - 10 a.m. CDT
Speakers: Clement Lau, Sean Woods and Melissa Erikson
Completed in 2022, the Park Needs Assessment Plus (PNA+) is a national model for park equity and planning. Parks, open spaces, recreation facilities, trails and gardens are essential community infrastructure, but not all communities have access to these resources. The PNA+ identifies priority areas for regional and rural recreation — based on population vulnerability factors — along with environmental conservation and restoration, which form the basis of a 30x30 strategy for Los Angeles County. This session will provide an overview of the data collection, analysis, community outreach and engagement, findings, and next steps to address park equity while looking at the need to include restoration of degraded lands, such as brownfields, landfills and oil fields, which negatively impact lower-
income communities of color where vulnerable populations and environmental burdens are concentrated.
Note: Due to unforeseen circumstances, this information is subject to change. For more information, please visit nrpa.org/Conference.