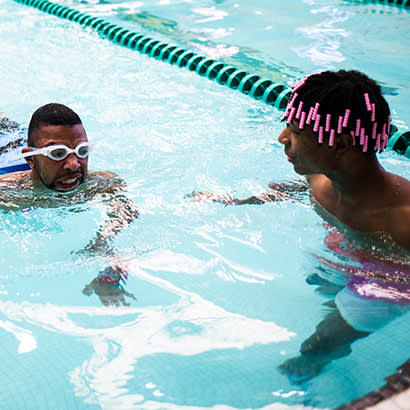 For an enhanced digital experience, read this story in the ezine.
Special Olympics Virginia's mission is to provide year-round sports training and athletic competition in a variety of Olympic-type sports for children and adults with intellectual disabilities, giving them continuing opportunities to develop physical fitness; demonstrate courage; experience joy; and participate in a sharing of gifts, skills and friendship with their families, other Special Olympics athletes and the community.
From a backyard summer camp for people with intellectual disabilities to a global movement, Special Olympics has been changing lives and attitudes since 1968. The genesis of Special Olympics was a summer day camp that Sargent Shriver and Eunice Kennedy Shriver started in the backyard of their Maryland home. In July 1968, the world witnessed the first International Special Olympics Games at Soldier Field in Chicago. In December of that year, the Joseph P. Kennedy Foundation incorporated Special Olympics. Since then, Special Olympics has grown to become the largest program of its kind.
Today, Special Olympics Virginia is made up of 492 community- and school-based programs that offer sports training and competition to children and adults with and without intellectual disabilities. More than 21,000 athletes currently benefit from the program, which offers approximately 2,000 competition opportunities each year in 13 Olympic-style sports, with the help of approximately 8,400 volunteers. Programs at the local, regional and state level — including our largest event, Summer Games — are supported by volunteers of all ages and promote the development of life skills, improve health and fitness, and increase self-esteem.
Special Olympics is open to all children and adults with intellectual disabilities, from those who are profoundly disabled to those who are high functioning, as well as individuals with multiple disabilities. Participation can begin as early as 2 years old, thanks to our Young Athletes program, and can continue throughout life. There is no upper-age limit. The program is open to all persons with intellectual disabilities regardless of race, religion, gender or nationality. There are no fees charged to the athletes or their families.
Throughout the state of Virginia, we have partnered with park and recreation departments for more than 20 years, including those in Richmond City and Hampton, Fairfax and Loudoun Counties, to make our programs more accessible to the communities we serve. These types of partnerships allow us to reach more athletes who not only are able to train in facilities with their teammates, but also with their peers without intellectual disabilities. It is important for the community to see what our athletes can do.
As we continue to rebound from the coronavirus (COVID-19) pandemic, our focus is to continue to develop these partnerships across the state so that we can continue to grow the program and our athletes can be stronger, fitter and healthier!
Editor's Note: Special Olympics Virginia participation and location information has been updated for accuracy.
Veronica Jennings is Assistant Vice President, Local Program Services for Special Olympics Virginia.