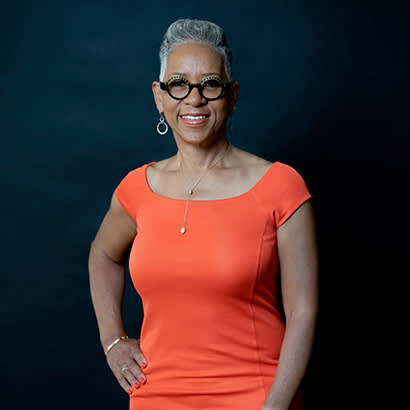 For an enhanced digital experience, read this story in the ezine.
With an outstanding track record in leading, innovating and collaborating, Katrina Adams is the first African American to lead the United States Tennis Association (USTA), the first two-term chairman and president (2015-2018) and the first former player to hold that honor.
Under her tutelage, the USTA achieved several major milestones, including the opening of the USTA National Campus and the transformation of the USTA Billie Jean King National Tennis Center, and led an outreach effort into underserved communities to share the sport of tennis.
The former Women's Tennis Association Tour player competed for 12 years and won 20 doubles titles in her career. Adams sits on several nonprofit boards and committees, including being vice president of the prestigious International Tennis Federation, chairperson of the Billie Jean King Cup Committee, chairperson of the Advantage All Committee (formerly known as Gender Equality in Tennis Committee), executive board member of the International Tennis Hall of Fame, and executive director/president of the Harlem Junior Tennis and Education Program. She also has branched onto boards in the private sector, including Pivotal Acquisition Corp, GSE Worldwide and Athletes Unlimited, as well as served in several advisory roles.
Her maiden novel Own the Arena was published by Harper Collins Publishers, Amistad Books, February 23, 2021.
NRPA is excited to feature Adams during the 2023 NRPA Annual Conference Day 2 General Session keynote on Wednesday, October 11, at the Kay Bailey Hutchison Convention Center in Dallas.
Panel Discussion – The Ball Is in Our Court: Leveraging the Power of Parks and Recreation to Advance Youth Sports Equity
Sports provide a pathway for youth to develop healthy habits, build relationships with peers and adults, and thrive in school and their future careers. However, not all kids have access to these opportunities. As one of the largest providers of youth sports in the nation, park and recreation professionals are catalysts for advancing youth sports equity in their communities. On Wednesday, October 11, join us for the Day 2 General Session panel discussion, The Ball Is in Our Court: Leveraging the Power of Parks and Recreation to Advance Youth Sports Equity in which our experts will take a deep dive into this topic. During this one-hour session, moderator Anthony-Paul (AP) Diaz, superintendent of Seattle Parks and Recreation, will be joined by panelists Cal Dobbs, Jason Sacks, Kari Miller and Lily Sunarjardi to discuss the following:
How the power of parks and recreation creates positive outcomes for youth
The social, emotional, physical and mental health benefits of youth sports
How park and recreation professionals can create more inclusive programs and spaces so all youth can play
Don't miss what's sure to be an engaging and highly informative keynote and panel discussion!