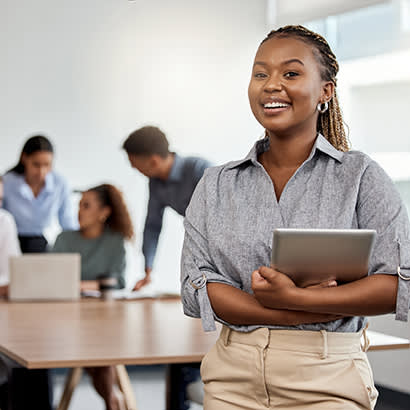 For an enhanced digital experience, read this story in the ezine.
How the roadmap helps guide professionals and affirm their professional "why"
To have a successful career in parks and recreation, professionals need to be growing and evolving continually. One of the challenges they face is navigating myriad professional growth opportunities, including conferences, schools, certifications, professional association membership and involvement, and mentoring. They do not have a roadmap to guide them and link opportunities, which often leads to professionals feeling lost.
Reviewing the many available career progression opportunities, the "Professional Development Roadmap" provides a logical and rational development model, which can guide professionals no matter where they enter the park and recreation field. Professionals following the roadmap will be able to find a starting point, explore the many available career progression opportunities, and affirm or reaffirm their professional "why" — to enhance the quality of life for others by creating and providing extraordinary experiences.
Whether utilizing professional associations, engaging with like-minded groups, or simply communicating and networking with colleagues, park and recreation professionals regularly build each other up. Like the "Pyramid of Greatness," created by the "Parks and Recreation" character Ron Swanson, the roadmap helps professionals working toward the pinnacle of their career to obtain and use the tools gained through professional development in their community and unleash the full power and benefits of parks and recreation. The roadmap can help determine what stage you are in while providing suggestions and guidance along the way. Each stage provides a logical progression toward development, but as opportunities may avail themselves, they are not necessarily accomplished in any specific order.
The roadmap, structured as a pyramid, has two focuses: continuous learning and continuous improvement, each consisting of four categories. Herein, continuous learning is defined as the process of learning new skills and knowledge on an ongoing basis, which is voluntary and self-motivated and enhances personal and professional development. Continuous improvement is defined as an ongoing effort to improve yourself and evolve over time. The professional stage you are at when starting your career should not be the same at your career mid-point or later.
Continuous Learning
Continuous learning is attainable and accessible. All professionals are capable of continuous learning if time and energy are allocated. A mentor of mine once said, "The day I feel I know it all is the day I should retire." We all can agree, especially given the events of the past few years, that we always are learning from one another. For purposes of professional development, the continuing learning focus is broken down into the following: mentoring, education, certification/accreditation process and toolbox development.
Mentoring – As a cornerstone of career development for many professionals, mentoring is perhaps the most accessible learning resource. In most instances, it's free. Starting off, many find a mentor in a trusted co-worker or supervisor, where a relationship is established to simply observe or ask the occasional question. As one gains experience and broadens their network beyond their own organization either regionally, statewide or nationally, you may find a mentor by attending a conference or participating in a formal mentorship program, such as the NRPA/American Academy for Parks and Recreation Administration Mentorship Program. This program pairs hundreds of professionals from around the country annually who embark on a guided mentorship journey. It should be noted that many states and larger metropolitan areas also have formal mentoring programs. Some of the bonds formed during these programs have led to countless professional opportunities, including association leadership, new jobs and promotions.
Finally, as one finds the comfort level with the mentor/mentee relationship, there comes a time to pay it forward by mentoring others. There is a quote that states, "If you're over 45 and don't have an under-30 mentor — not mentee, but mentor — then you're going to miss fundamental shifts in thinking that are happening." This concept often is referred to as reverse mentoring, which is key for those who have been in the profession for a longer period of time. Mentoring is an ongoing process that provides benefits to learn, grow and develop for both parties in the relationship.
Education – This is one of the most tangible and common forms of continuous learning. Upon entering the workforce, whether with a degree in parks and recreation or not, professionals need to continue to build their knowledge. One of the most accessible methods to learn about the field is to read professional journals, publications and magazines or be active on NRPA Connect. Furthermore, learning can come in the form of researching the practices of highly successful professionals, visiting CAPRA-accredited or Gold Medal-winning agencies, and attending various trainings and conferences either locally, virtually, statewide or nationally. These experiences provide the foundation for both individual and agency development. As careers progress, educational opportunities also can be obtained through schools and institutes, such as the NRPA Park and Recreation Maintenance Management, Supervisors' Management, Revenue Development and Management, and Directors Schools.
Certification/Accreditation process – NRPA and other professional organizations have several professional certification and agency accreditation programs that can be used for professional development. These programs can assist the professional in adhering to the highest operational standards in the industry for both the individual and agency/organization. While we may have obtained various individual certifications — like CPRP/CPRE, AFO and CPSI — there are opportunities for continuous learning through being involved with the development of these exams; i.e., writing test questions, and the administration of these certifications. Additionally, governing bodies like CAPRA and the Council on Accreditation for Parks, Recreation, Tourism and Related Professions rely on practitioners and academics to oversee these programs. Being a part of these programs and processes provides an excellent outlet for the professional to understand parks and recreation and its "gold standards," as well as provide input on how to improve each program.
Toolbox development – This is the last aspect of continuous learning. Benjamin Franklin stated, "The best investment is in the tools of one's own trade." To be a successful park and recreation professional, you need a variety of tools. However, it should be noted that as you move up in your career, those tools will change and evolve. Toolbox development serves as a supplemental form of learning that comes from continuously trying new "tools." Professionals in the early stages of their career can develop a toolbox by learning new skills (Canva, Adobe, Excel, etc.), volunteering for special events and joining professional social platforms, such as LinkedIn or NRPA Connect. As you progress, this concept continues in the form of attending organizational board meetings or being asked to lead or serve on special project committees. Learning from these leadership opportunities enables the professional to gain skills in a safe environment to use when needed in their community. Eventually, the toolkit grows to a point where one may develop a visionary project or even consult other agencies with the knowledge gained over the years through this process.
Continuous Improvement
The second focus area within the Professional Development Roadmap, continuous improvement, presents a different but equally important set of opportunities. Closely related and sometimes a byproduct of learning, improvement relates to implementing what you have learned for the benefit of your community and for your benefit as a park and recreation professional. Through the process of continuous improvement, the professional will use what they have learned and contribute to forward-thinking and cutting-edge approaches to parks and recreation. To some extent, the elements in this focus area are outcomes of learning. However, the sharing of information from your learning continues your professional development journey. Key elements of this focus area include applying for and potentially receiving awards, sharing information through presentations, obtaining certifications and embarking on professional association leadership.
Awards and recognition – While acknowledgements always are appreciated, sometimes, awards and recognition are thought of as impossible to attain due to all the great work other park and recreation agencies are doing around one's region, state and country. Park and recreation professionals should not fret about applying. While a certain amount of time and effort goes into the process for a quality submission at any level, as Wayne Gretzky once said, "You miss 100 percent of the shots you don't take." When it comes to awards, put in the work and take your shot — individual and agency opportunities alike — because even going through the process will make you better at what you do. If you don't achieve your goal the first time around, learn from it and keep trying.
Secondly, while receiving awards is a fulfilling feeling from a personal standpoint, these awards provide councils and boards validation of the work you are doing and the funding they are providing to your department. Awards are an important part of professional development. However, as one of our peers stated, "Awards are part of the journey, not the destination." A professional never should rest on their laurels. If they do, their programs and services may become stale and not relevant to their respective communities.
Instruction – For those who have learned so much from others in their quest to develop their craft, passing it on through instruction of their own is a wonderful way to accomplish individual improvement. Presenting information is a hallmark of a highly successful professional. As professionals move up the ladder, they are asked to present to community groups, advisory councils, boards and commissions. Starting in safe environments, such as leading agency meetings and facilitating part-time staff orientations, is a great way to gain this skill. This will help you gain confidence and overcome the fear of public speaking. Additionally, seek a friend who will be at your early presentations to provide constructive criticism on your presentation style, eye contact with the audience, rate of speech and overall content of your presentation. As you build your knowledge base and become a better speaker, seek opportunities to present at state or regional conferences or virtual trainings that potentially can lead to presenting nationally, at a specialized school or as an adjunct lecturer/professor. A great way to get your feet wet is by co-presenting with a co-worker or colleague, especially if you are not fully comfortable going solo to start.
Personal certifications – Certifications can be costly but are a great investment and a way to continue your development while making you more marketable. Certification programs are not just about having letters behind your name or a piece of paper to frame and hang in your office. By obtaining certifications, you demonstrate to your community, supervisors and prospective employers that you maintain a high level of knowledge and skill in the profession and that you are committed to maintaining the certification through obtaining continuing education units (CEUs). From specialized examples — such as earning first aid/CPR certifications or becoming a licensed fitness instructor or CPSI — to general professional certifications — like becoming a certified therapeutic recreation specialist or CPRP/CPRE — these credentials keep the professional learning and improving. They are critical to differentiating your résumé from that of the next candidate.
Professional association leadership – NRPA is the leading professional association in the field, serving more than 60,000 members across the country. Each state and many regions possess their own member organizations or societies related to parks and recreation. Additionally, there are specialized associations, such as the Association of Aquatic Professionals, International Society of Arboriculture and American Camp Association, that provide professional leadership and growth opportunities. While much of the coordination and administration comes from paid staff, volunteers lead many of the initiatives and much of the legwork. Next time an email comes across your desk asking for volunteers to serve on a committee, task force or focus group, raise your hand. The time you may have to allocate toward service is certainly at a premium and can vary, so be sure to look for the opportunity that makes sense for you. Start small if you are unsure. Consider assisting as a member at large on a committee that provides clear responsibilities. As you progress, the opportunities may grow to the tune of you leading or chairing the very committee you served and potentially acting as an association executive board member or president. You will be amazed at what this can lead to, what you will be exposed to and how this will impact your career in the long run.
Relationship Building
As you navigate through the roadmap itself, you undoubtedly will discover much more than what's outlined here. Relationship building is one concept that has been alluded to that is vital to the professional's successful development journey. Relationship building and networking tie the entire roadmap together. Without it, a professional is highly unlikely to progress from one step to the next.
Throughout every level of your career, there are opportunities to build relationships that help you in achieving continuous learning and continuous improvement. Building relationships, at any level, can be accomplished by adhering to one simple phrase, "Just show up." When you are asked to attend a meeting, conference, professional social engagement or engagements that may be outside your comfort zone or the typical job scope, just show up. You never know who you might meet, what opportunity may arise and how the experience can potentially position you or your agency for future successes.
While the Professional Development Roadmap may seem overwhelming, the park and recreation professional needs to realize it frames professional development from a career perspective, not a singular five-year plan. The roadmap has been created with the understanding that everyone's journey is different.
For those just beginning their career in parks and recreation, determine a starting point and use a mentor as a guide. If you are in the middle of your career, it is not too late to restart your journey. There is a very good chance that most of us already have been engaging in professional development practices, either by design or unintentionally. As a general career objective, we are challenged with growing the communities we serve, and to do so we must grow ourselves. Use this tool as a guide to develop personally while simultaneously growing the profession with the ultimate goal of "leaving it better than you found it," as we have been challenged by Claude Ahrens.
Authors' Note: The Professional Development Roadmap initially was developed by Dirk Richwine and Chris Nunes prior to Richwine's passing in late 2021. We are thankful that he provided this one last "nugget" of wisdom and mentoring that we can use in our professional development.
Chris Nunes, CPRE, is Chief Operating Officer of The Woodlands (Texas) Township. Tom Venniro, CPRP, is Director of Hilton-Parma (New York) Parks and Recreation.