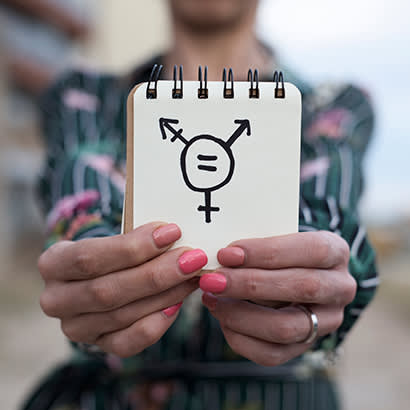 For an enhanced digital experience, read this story in the ezine.
On Tuesday, October 10, I invite you to attend my education session, "Respecting Me as a Transgender Woman," at 1 p.m. CDT, during the 2023 NRPA Annual Conference in Dallas. However, before you add this session to your conference schedule, you may be asking: "Who is Karen Kendra Holmes?" I am an advocate for the transgender community. But let me take you back to the time before I became an advocate for my fellow sisters and brothers in the community.
My earliest memory of dressing in women's clothes was at 13 years old. I wasn't sure exactly why I decided to do that, but I knew it felt right within myself to wear them, and I felt more comfortable with myself when I did. For years, I purchased women's clothing, shoes and wigs. I kept the clothes for about a year and then threw them away, only to return to dressing as a woman a few months later. I felt awesome and at peace crossdressing.
I never shared my feelings with anyone, not even my parents. But later, my parents suspected something might be wrong and sent me to a psychiatrist who prescribed medication. After several months, I stopped taking the meds but deep down inside, I knew everything wasn't OK. I feared talking to my parents about why I dressed in women's clothes because I didn't understand it myself, and I couldn't find the words to explain it. As a young boy, I was confused by this — which continued into my adolescence.
During my 20s, I married a woman who accepted me dressing in women's clothing. But six months later, she realized she wasn't OK with it and divorced me. My second marriage lasted 18 years, and during that time I hid my identity as Karen from my wife and her kids. Between marriages, I thought I would remove Karen from my life for good by discarding her clothes yet again, but this time it was over a cliff. About five months later, Karen re-emerged. I couldn't shake her loose; it was a consistent battle, and she would return with force each time I tried to remove her from my life. So, I embraced the fact that I was a crossdresser; however, my soul remained in turmoil.
It wasn't until June 2010 that my life really began. A good friend invited me to the Philadelphia Trans Wellness Conference. At the event, I felt exhilarated by the freedom of crossdressing all weekend. The first day of the conference hosted 1,200 transgender people from around the world. I attended the workshops and for the first time in my life, I started to understand why I was in such turmoil. I left that conference like a runaway freight train on a mission. I embraced the woman I had been suppressing for 40 years, and on October 1, 2010, I began living as a woman full time. My transition from male to female was completed after gender reassignment surgery on April 8, 2016. Today, I'm happier and my soul is at peace.
During my one-hour session, I'll share how I had to earn and gain the respect of the outside world being a transgender woman dealing with the hate and lack of respect from those who do not understand our community. I also will discuss how I built a platform for myself so that when I told others I am transgender, it was OK and they respected me as a human being. Attendees will understand how I approached the process to make it successful with my family, friends, job and volunteer organizations. What's more, I'll discuss my own TV show in Richmond, Virginia, as well as my experience serving with the U.S. Veteran Reserve Corps for five years. Lastly, attendees will learn what it means to have the respect of the military and police to train them on bridging the gap between law enforcement and the transgender community.
Karen Kendra Holmes (she/her/hers) is a Safety Officer for the federal government in Silver Spring, Maryland.