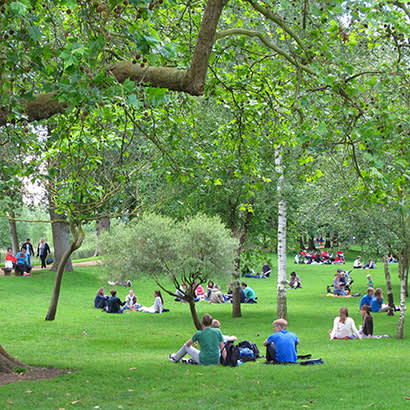 For an enhanced digital experience, read this story in the ezine.
How you can protect parks for generations to come
Think of all the ways you and your neighbors enjoy outdoor spaces in your community. Do you smell fresh-cut grass as you bike through a local park? Do you hear kids playing games during summer camps? How do these memories make you feel?
Now, imagine a world where you don't have access to these spaces and experiences.
Unfortunately, more than 100 million people live without a quality park within a 10-minute walk from their home in the United States. For nearly one-third of the population, quality time outdoors is out of reach due to systemic barriers that prevent people — disproportionately communities of color — from enjoying nearby and quality green spaces. Luckily, lawmakers in Washington, D.C., are debating legislation that seeks to expand access to parks, and you can help support it.
A Legislative Solution
The Outdoors for All Act increases investment in green spaces in under-resourced communities by establishing the Outdoor Recreation Legacy Partnership (ORLP) program as permanent law. Established by Congress in 2014, this grant program invests in and develops outdoor recreation spaces in economically disadvantaged urban communities with no, or almost no, access to publicly available, nearby outdoor recreation.
NRPA ardently supports this legislation, particularly as it relates to our Three Pillars: Health and Wellness, Equity, and Conservation. We understand how easy, free access to the outdoors benefits individuals, communities and the environment.
A More Equitable Future
It is critical to acknowledge the systemic inequities that have created very different lived experiences in communities across the country as we work toward building more equitable access to parks and outdoor spaces. As it stands, recreational facilities and the resources they offer are not distributed equitably. The Outdoors for All Act specifies that low-income, urbanized areas or urban clusters are the intended beneficiaries of the ORLP program grant funds — the very communities that historically have been underinvested in.
Healthier Communities With Outdoors for All
As Community Wellness Hubs, park and recreation agencies foster healthy habits and curiosity in community members of all ages. Research shows that having more parks and more park area (i.e., acreage) within a community is associated with higher physical activity levels. Codifying the ORLP program into law through the Outdoors for All Act can help nurture healthier communities.
The Economics of Outdoors for All
In addition to the health and environmental benefits, this legislation would provide increased access to open space in urbanized areas, which often results in positive economic benefits to the communities and municipalities therein. Locally, open spaces — like park and recreation areas — can have a positive effect on nearby residential property values, leading to higher property tax revenues for local governments that can be reinvested in a community's green spaces. Neighborhoods with accessible, quality parks and recreation areas can promote the development of community events and local businesses, which, in turn, stimulate the economy of the area.
Throughout the past nine years, the ORLP program has awarded more than $45 million in grants to 50 communities. However, as a grant program, it lacks dedicated, permanent funding. Additionally, a minimum population threshold of 25,000 residents prevents ORLP grants from being available to many smaller communities that need them most. The Outdoors for All Act would lower the population threshold to increase outdoor recreation opportunities for more people across the country.
How to Get Involved
Please help raise awareness and let your elected officials know why and how they should support this important legislation. Join NRPA's advocacy efforts to pass the Outdoors for All Act by clicking here or texting OUTDOORS to 1.888.991.5955.
Dan McCarthy is Senior Manager of Advocacy at NRPA.