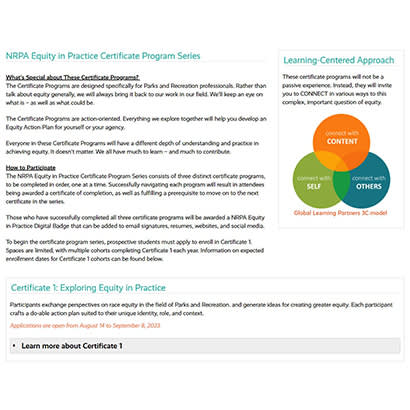 For an enhanced digital experience, read this story in the ezine.
NRPA's Equity in Practice Certificate Program Series serves as a starting point for individuals who wish to deepen their knowledge and skills in promoting equity and creating inclusive environments. The first certificate, "Exploring Racial Equity in Parks and Recreation," sets the stage for exploration and empowers participants to contribute actively to the advancement of equity in their communities and agencies. Participants in this program engage in interactive learning experiences that foster critical thinking and reflection. This certificate provides a high-quality professional development experience that uses a race equity lens to examine ways that people with various identities are marginalized, specific to the needs of parks and recreation, with a tangible focus on action.
A Community Focused on Equity
City of Greensboro (North Carolina) Facilities Coordinator Chamreece Diggs, CPRP, MBA, shares her experience in the certificate program:
"The Equity in Practice Certificate Program was not only an opportunity to develop a toolkit of resources to help support my organization's efforts in addressing our equity shortfalls, but also a space to identify and address potential [unseen areas] and gaps in my own knowledge. I also wanted to join a community of professionals so that I [could] not only learn from them [and] hear success stories and best practices, but also gain support on working through personal change-agent burnout.
Tangible examples, articles and thoughtful activities prompted necessary dialog. Materials reviewed and the action plan worksheet provided ideas and resources that translate into long-term facilitation and training tools that can be used within my organization. I am enthusiastically waiting for the next course."
Embracing Opportunities
Ben Johnson Jr., CPRP, assistant director, recreation, for Louisville (Kentucky) Parks and Recreation, shares his experience:
"I had the pleasure of being in the most recent cohort with [more than] 20 amazing park and recreation professionals, representing 14 states and every possible title, level of experience and lived experience you can imagine. The course, assignments, learning opportunities and information shared was very impactful.
An unexpected blessing were the bonds we managed to form during the virtual sessions — so much so people were asking, 'Will I see you in Dallas?'
If you want to learn about yourself as well as parks and recreation's history and opportunities related to equity, sign up for the next session. It will be time well-spent."
Becoming an Ally
City of Stockton (California) Public Works Department Project Manager Susan Christy says:
"We learned to speak from our own experiences about race. This is a constant learning process. There are always more books, more people to talk to and a variety of viewpoints. But, let's talk!
A few years ago, I actually asked a colleague if he got into a program because of the color of his skin. I was horrified and so sorry. It just popped out. Going about our merry way without acknowledging the systemic racism in our communities isn't helpful.
I want to be an ally. NRPA made a safe space for us to learn and gave us resources to continue learning and developing DEI [diversity, equity and inclusion] policies and programs at our own agencies. I'm looking forward to contributing to DEI policies in my workplace."
To learn more about NRPA's certificate programs, visit learning.nrpa.org/Certificate-Programs.
Danielle Lucas is Hybrid Learning Coordinator at NRPA.