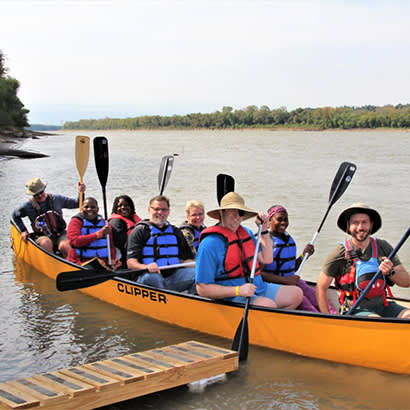 For an enhanced digital experience, read this story in the ezine.
Environmentalists often describe environmental education (EE) as having a certain feeling of connectivity while in nature. Participants describe stories of being able to explore nature in their own backyard. But how important is EE in today's world? Because EE programs are not funded as priorities, many students may be unsure about how to interact with nature. As adults and educators, we must be patient while working with children and help them build a positive connection to nature and the environment.
Gentrification
One reason some children might be afraid of nature is gentrification. Gentrification is the process whereby the character of a poor urban area is changed by wealthier people moving in, improving housing and attracting new businesses, typically displacing current inhabitants in the process. Outsiders tend to start adding neighborhood green spaces or greenery to shopfronts. Typically, rent rises and existing residents are forced to move out, which can send families into poverty. As programmers in EE, we must strive to make every child feel comfortable in nature, not just those who are already familiar with it.
Since the 1970s, the world has been plagued with a vast range of environmental problems. Our cities face about 90 percent of the issues, like polluted waterways, light-polluted
night skies, sound pollution, etc. When we experience environmental issues, we are more inclined to do something about them. This has caused a massive surge in EE that has led to the creation of many environmentally focused schools and programs all over the world. However, when looking at public schools in densely populated cities, EE seems to be missing.
Children in urban public schools have been lacking a connection with nature, leading them to misrecognize several damaging environmental impacts. To counter this disconnect and help children build a connection to nature, we should utilize unique educational strategies beyond typical EE programming.
Technology
We cannot avoid technology and must examine EE through modern-day eyes. Most EE lessons are taught with the perception that we should live in a world untouched by human activities. However, most children, or even adults, in densely packed cities have not seen land that has not been touched by humans. Technology can show children what these landscapes look like and even motivate them to want to make a positive impact on nature.
Arts and Expression
The arts offer another way to inspire action to protect the environment. While most children have not seen untouched land, they have heard music on the radio, viewed a painting or seen a theatrical production. As environmental educators, we can lead children to make a performance based around nature, create a dance to mimic the ways trees sway, or test an art gallery showing at our schools or community centers depicting scenes from nature. This kind of artistic expression can foster a connection to nature.
Sports and Play
Another tool that often gets overlooked in EE is sports or free play. Playgrounds, basketball courts and soccer fields are outside and can spark children's interest in helping to protect the environment — it's how we encourage their attitudes that matters. Set up time to do walk-throughs of the fields or playgrounds for litter pickup and provide more recycling bins than trash bins. Most importantly, have fun and be positive. If a coach or a leader shows passion, then that passion will go on to the next generation.
For those attending the 2023 NRPA Annual Conference, attend the conference session, titled "Implementing Environmental Education in Under-Resourced Populations," presented by Rebekah Kammeyer on Tuesday, October 10, from 3-3:30 p.m. CDT.
Rebekah Kammeyer is Recreation Supervisor at Beechmont Community Center with Louisville Parks and Recreation.