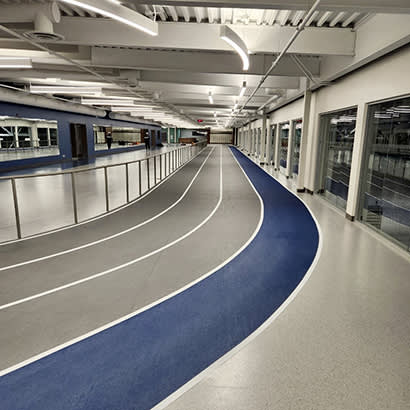 For an enhanced digital experience, read this story in the ezine.
Work in the park and recreation industry long enough, and you eventually will need to replace the flooring in a community center, gymnasium, recreation center or other indoor facility. While options on the market might have been limited years ago, today they are virtually endless.
Before you decide upon the flooring, however, it is important to arm yourself with the answers to a few critical questions:
Will the floor host just sports or will it have multiple uses, including community meetings, where tables and chairs might be used?
What sports will the floor be used for and how often?
Will you need the floor lined for these sports? It's important to note that contractors advise against using tape on floors to delineate playing areas.
What additional amenities will you need? These might include scoreboards, basketball goals, hockey goals, nets for pickleball or volleyball, etc. Which ones will be permanent and which will be temporary?
What is your overall budget?
What is your budget/capability for maintenance?
The answers can help contractors and other vendors make recommendations that fit your needs.
Surface Materials
"The changing needs of indoor facilities have led to a variety of new and innovative surface materials that meet the demands of today's users," notes Joe Covington of Covington Flooring Company. Some of the most popular materials include the following:
Polyurethane is a versatile and durable material that often is used for multipurpose indoor facilities. It is slip-resistant, shock-absorbing and easy to maintain.
Rubber is another durable and versatile material that often is used for indoor facilities — especially weight rooms and fitness areas where good traction is important. It is shock-absorbing and protects the concrete substrate from shattering or deteriorating over time. Rubber also offers enhanced acoustical properties for impact noise, such as for areas suspended over offices or first-floor activity rooms.
Wood is always the popular choice for indoor facilities that will be used for court sports, such as basketball, volleyball, badminton or pickleball. It is smooth and shock-absorbing. When properly maintained, it provides the delicate balance of slide versus traction required for these activities.
Artificial turf is a low-maintenance and durable option for some indoor facilities. It also is slip-resistant and provides good traction for agility and speed training.
The best surface for an indoor facility will depend on the activities that will be taking place and the users' needs.
Selecting a Contractor
A contractor with experience in indoor flooring can be an invaluable asset to the search process. Several trends are shaping the market, and those are driven by customer demand. Wood flooring, the most traditional of all surfaces, is not immune to this. "The trends that we are seeing the most...are more staining of the floors," says Jimmy Waters of Arizona Hardwood Floor Supply, Inc.
According to Kira Simons of Titan Sport Systems Ltd., synthetic systems with a wood floor aesthetic are gaining popularity as well.
No matter what the surface makeup is, those in the industry say it's maintenance that will drive the floor's longevity.
Mary Helen Sprecher is Technical Writer at American Sports Builders Association.