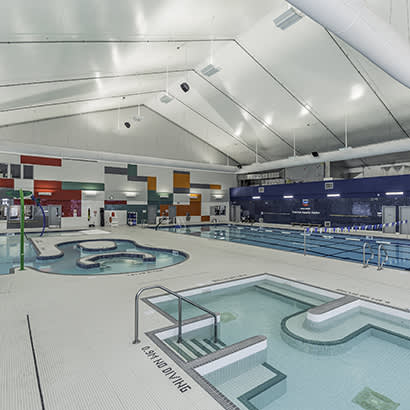 For an enhanced digital experience, read this story in the ezine.
Rigid-frame fabric buildings offer a permanent solution for athletic facilites
For many park and recreation agencies, the construction of a sports and recreation facility comes down to two options: a permanent brick-and-mortar building or a lower-cost fabric bubble. In reality, there is another solution — the modern tension fabric building — that takes the known benefits of fabric cladding and applies them to a permanent facility.
Rigid-Frame Design
A turning point for fabric structures came 13 years ago with the introduction of fabric structures that featured a structural steel I-beam frame. This innovation allowed fabric buildings to be engineered in the same fashion as conventional construction projects, meaning that it is now possible to design a fabric building exactly as desired for its intended uses.
Polyvinyl chloride (PVC) fabrics also have improved with thicker materials to provide a longer lifespan. With a patented system in place to attach the fabric to the structural frame, facilities can be completed on a much faster timeline than a traditional brick-and-mortar building.
Space to Play
There's no getting around the fact that turf sports, like football and soccer, take a lot of space — especially if you want a full-size regulation field. Rigid-frame design allows fabric buildings to have long, clear spans without any need for support beams that would interfere with the playing area. For indoor facilities where a track also is needed, it isn't a problem to go wider and longer with the building dimensions.
Optimized for the Sport
Court sports often come with defined guidelines for building peak height to allow for necessary space around the playing surface boundaries. All building measurements can be customized from the beginning of the design process in a rigid-frame fabric building.
Furthermore, engineers can account for any hanging or collateral loads that may need to be supported by the structural frame. HVAC, fire suppression systems, lighting, scoreboards and batting cages are among the items that can be accounted for within the original I-beam design.
Interior Environment
The rigid-frame approach to fabric structures also allows suppliers to apply appropriate insulation to meet energy codes or individual user requirements. Insulation is secured and protected by a liner, which is the same type of PVC used to clad the building exterior. The result is an airtight structure designed for maximum energy efficiency. Whether the building must manage the humidity of a pool or regulate the temperature of a hockey arena, any athletic application can be accommodated.
The fabric liner also provides aesthetic benefits with a softer feel, better acoustics — especially compared to steel structures — and improved lighting due to the fabric's reflective nature. PVC fabric comes in a variety of colors, so the interior and exterior could be made to match the colors of a school or community.
Long-Term Value
Not only are rigid-frame structures built to last, but also they typically require very little maintenance. When considering the lower investment to build and cost to maintain, while acknowledging that the ideal playing conditions can be achieved, it's easy to see why tension fabric buildings have become a desirable permanent facility solution.
Shannon Humbert is a Building and Project Design Consultant for Legacy Building Solutions.