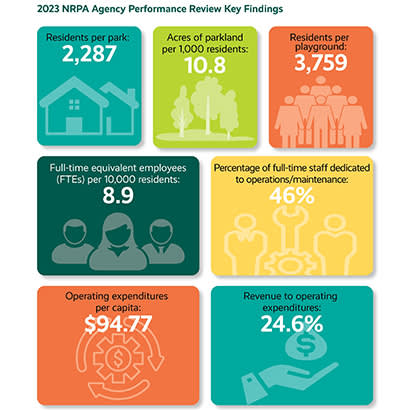 For an enhanced digital experience, read this story in the ezine.
Park and recreation stories are the heart and soul of the field, but many times these stories can only take an agency so far when discussing budget, staffing and/or facility needs. Data serve as a powerful tool for substantiating claims, bolstering support from leaders and informing decisions across a wide range of initiatives and endeavors. More than 10 years ago, NRPA developed a comprehensive tool, known as NRPA Park Metrics, to effectively assess, manage and improve these valuable assets. We continue to enhance this resource to ensure agencies improve their operations and grow their impact on their communities.
NRPA Park Metrics is a data collection and benchmarking tool designed to help park and recreation agencies measure their performance and demonstrate the value they provide to their communities. It is a comprehensive system that covers a wide range of performance indicators, allowing agencies to assess their operations, plan for improvements and compare themselves to peers.
NRPA Park Metrics consists of two main components: the Agency Performance Survey and custom Agency Performance Reports. Each year, park and recreation agencies across the country complete the Agency Performance Survey within NRPA Park Metrics. Because of those contributions, park and recreation professionals and their peers can produce valuable benchmarking reports within the tool that:
Improve decision making – By regularly assessing key performance indicators, agencies can allocate resources more effectively, implement targeted improvements and align their strategies with the needs of their communities.
Identify peer groups – NRPA Park Metrics allows agencies to benchmark their performance against peers locally, regionally and nationally. By learning from top-performing agencies, park and recreation departments can set realistic goals and implement best practices to improve their services in a collaborative manner.
Assist with accreditation and certification goals – Data collected through the Agency Performance Survey can be invaluable in meeting the criteria for accreditation. Agencies that can show they are using data to drive improvements often are more successful in achieving these prestigious designations.
Facilitate long-term planning discussions – Contributing to the Agency Performance Survey helps agencies identify trends and anticipate future needs. This proactive approach allows agencies to make strategic investments that will benefit their communities for years to come.
Agencies contributing to the Agency Performance Survey within NRPA Park Metrics inform the annual Agency Performance Review (APR) — the most comprehensive resource of data and insights for park and recreation agencies in the United States. Using the APR, its accompanying interactive charts and graphs and the reporting tools within NRPA Park Metrics, agencies of all sizes, populations, locales, budgets and more can access powerful data customized to meet their needs.
Long-time users of and contributors to NRPA Park Metrics may notice a few welcome changes to the Agency Performance Survey in 2023. Beginning this year, NRPA's Park Metrics and the Trust for Public Land's ParkScore will begin to align these individual surveys into one. We will share more on this exciting initiative soon.
The 2023 NRPA Park Metrics Agency Performance Survey campaign has begun! From now through January 2024, we encourage you and your agency's submission of the Agency Performance Survey within NRPA Park Metrics. The more data we collect, the more robust Park Metrics and the 2024 APR will be for you and your agency. Agencies submitting their Agency Performance Survey by January 26, 2024, will receive a custom Agency Performance Report showcasing their survey results alongside the data from the national APR.
Melissa May is Senior Research Manager at NRPA.