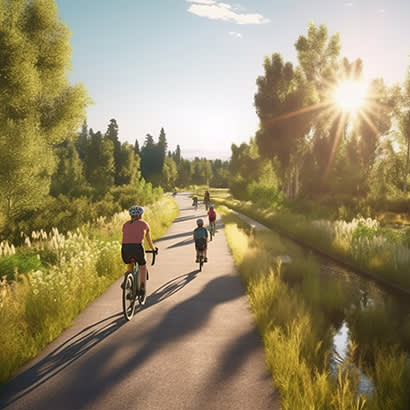 For an enhanced digital experience, read this story in the ezine.
Environmental resilience can be a complex issue to tackle and is only getting more daunting. As reported by the Associated Press, "Earth has sweltered through its hottest Northern Hemisphere summer ever measured, with a record warm August capping a season of brutal and deadly temperatures, according to the World Meteorological Organization. ...[T]he hottest August scientists ever recorded by far with modern equipment, it was also the second hottest month measured, behind only July 2023, WMO and the European climate service Copernicus announced [in September]."
The role of park and recreation professionals and experts in environmental resilience often focuses on making parks more sustainable across a range of factors — from carbon mitigation to energy efficiency to water conservation and natural resource management. NRPA is exploring opportunities to cultivate outdoor enthusiasts using parks, green spaces, planning and facilities to address environmental justice issues in communities across the country. Engagement, education and experiences are central to public support. This could include committees, partnerships, staff and community education, and hands-on experiences. Consider these three interventions that can be fun, engaging and educational.
Community Science Projects
Park and recreation professionals plan, manage, program and maintain 11 million acres of public parks and green spaces across the country and are poised to bring community-driven climate solutions that build a healthy, more resilient and more equitable future for generations to come. Progress toward your community's goals can best be celebrated, or problems addressed, when measured. Community science can utilize commonly available devices, such as cellphones and readily available apps, to contribute data. For example, asking community members to submit weather data can help scientists to measure heat and create a heat map. The map can be shared with decision-makers to drive equitable spending or seed target programing.
Additionally, invite park users to simply take pictures and share when things are going right, like a rain garden on a rainy day or a butterfly enjoying a flower in your pollinator garden. These images can be shared on social media, used in presentations and celebrated with staff who plan, build and maintain parks and programs.
Teach People to Ride a Bike
Some local sustainability plans look to reduce emissions by encouraging people to walk and bike. You might have plans for, or currently maintain, trails through parks that connect community-wide transportation networks. There are people in every community who do not know how to ride a bike. There are many reasons for this — it could be lack of access to bicycles or a safe place to practice. The park is a great place to hold a bike clinic or partner with a nonprofit to teach people to ride in a safe space. In areas with robust trail systems, there often are opportunities to rent bikes that are the right size for older children and adults. If you need some assistance with an approach, consider REI's web-based step-by-step guide. Consider developing a formal bike program for bike riders at all levels. Organized rides that target beginners can be customized for families, young adults, midlife professionals or those who lack the needed resources. Bike riding can get people out enjoying nature, improve physical and mental health, and build community ties.
Fly Air Quality Flags
Wildfires on the West Coast, from California to Washington, can devastate communities. The Canadian wildfires impacted air quality across the East Coast and the Midwest. I experienced it at NRPA's main office in Virgina in June and again in Detroit in July. This impacted summer camps and outdoor events, like festivals and community recreation. Children, older adults and people of all ages with compromised respiratory systems are especially vulnerable. Some communities are bringing the Air Quality Flag Program to recreation centers. The program uses brightly colored flags based on the U.S. EPA's Air Quality Index to notify people and their communities about outdoor air quality conditions. Organizations raise a flag each day that corresponds to their local air quality forecast. Air quality forecasts are available online. This program can be led by staff, nonprofit partners or local volunteers in target communities. The program also can serve to educate community members on air quality and equity.
Park and recreation professionals are catalysts for positive change in service of equity, climate-readiness, and overall health and well-being. NRPA is elevating the essential role that everyone can play in advancing upstream solutions and dismantling the systems that perpetuate climate and health disparities to build stronger, more vibrant and resilient communities where everyone thrives. Share your programs, projects and photos with NRPA's Resilience team.
Ayanna Williams, MSW, is Director of Community and Environmental Resilience at NRPA.