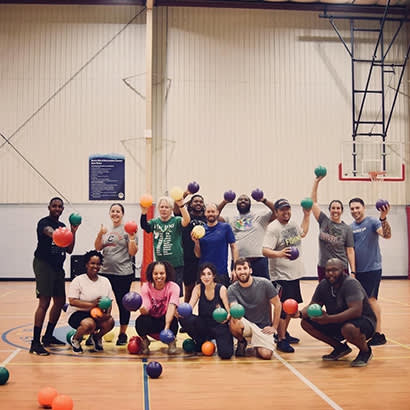 For an enhanced digital experience, read this story in the ezine.
Dodgeball is normally a sport associated with children. However, it is a timeless sport for all ages that originated 200 years ago and is a staple in recreation programing today. The concept is simple: throw balls at opposing teams and try not to get hit in the process. The objective is to eliminate all players and be the last team or person standing.
As adults, we always are looking for fun, innovative and cost-
effective ways to relive our youth. In Georgia, Cobb County PARKS (Cobb PARKS) has been hosting monthly adult dodgeball meet-ups that have become increasingly popular. These informal, unstructured games bring together adults of all ages and skill levels for a fun and competitive experience. So, what is all the hype about?
Accessibility and Versatility
One of the key attractions of adult dodgeball is how easy it is to join in. Unlike most sports, dodgeball doesn't require expensive equipment or specialized skills. All you need is a group of willing participants and a few dodgeballs. This simplicity makes it easy for participants to play, regardless of their fitness level or previous experience.
Pickup games are versatile and can take place in local parks, community centers or — in Cobb PARKS' case — recreation centers. The lack of a rigid structure allows for a casual and flexible playing environment. People can come and go throughout the evening, making it suitable for those who have irregular schedules or can't commit to a recreation league.
Connective Competition
Adult dodgeball pickup games foster a sense of camaraderie and social interaction. They provide an opportunity for individuals to meet new people, build friendships and connect with others who share a love for the game. The relaxed atmosphere encourages participants to socialize, have fun and enjoy the game without pressure.
While the emphasis is on fun, adult dodgeball games still can be competitive. All skill levels and ages can participate. At Ward Recreation Center, roughly 30 participants ranging in age from 18 to 72 compete every second Friday of the month. At any given time, you can see players making jump throws, diving for a catch or sprawling out on the ground to avoid getting hit. The diversity of this sport adds an element of unpredictability to the games, making each match different and exciting. While athleticism and strategy don't always come into play in pickup games, there are moments of pure gold and hilarity.
Fun Fitness
Dodgeball isn't just a game. It is a physical workout. Dodgeball requires quick reflexes, agility and coordination. Engaging in adult dodgeball pickup games provides a fun way to improve cardiovascular fitness, reflexes and overall body coordination without the feeling of a structured workout.
Adult dodgeball pickup is a fantastic opportunity for all park and recreation departments to engage their community in a fun, inclusive and physically active sport. It brings people together, promotes social interaction and provides a platform for both novice and experienced players to enjoy the game. So, grab a ball, gather your friends, and get ready to dodge, duck, dip, dive and dodge.
Tara Vroman is Recreation Coordinator III at Cobb PARKS.