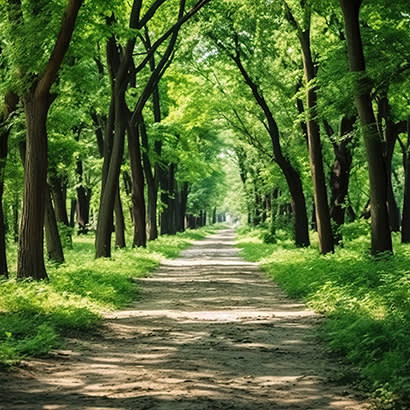 For an enhanced digital experience, read this story in the ezine.
More than $1 billion awarded to increase equitable access to trees and green spaces
With a historic $1.5 billion in available funding, the Urban and Community Forestry program provided park and recreation departments a unique opportunity to expand and support their urban tree canopy. Agencies were encouraged to submit projects that would expand equitable access to green spaces, create healthier and more resilient urban landscapes, educate and engage community members in the planting and management of their trees, and support efforts to minimize heat-related illnesses through increased canopy cover. After a summer of extreme heat in many areas across the United States, funding was granted to applicants in all 50 states, two U.S. territories, several tribes and three U.S.-affiliated Pacific islands. Below are just a few examples of the projects receiving funds from the Urban and Community Forestry program.
City of Arlington (Texas) Parks and Recreation
Park and recreation professionals at City of Arlington Parks and Recreation plan to remove the invasive Chinese Privet in Crystal Canyon Park to open up green space and recreation opportunities to adjacent underserved communities and support the growth and sustainability of native plant species. The insights and expertise gained from this endeavor will play a pivotal role in the formation of a comprehensive, sustainable eradication program across the park system.
City of Glenwood Springs (Colorado) Parks and Recreation
With a focus on vulnerable population densities, free maintenance assistance, educational resources and workshops to build grassroots forestry participation, Glenwood Springs has put equity at the forefront of its projects. In addition to these efforts, the agency will be using data collected through the TreePlotter software to identify target areas for planting and nurturing trees to increase its community's climate resiliency and ecological health.
"Knowing exactly what you have, where you can plant and who in the community will be benefitting most are the most valuable tools in building a successful and equitable community forestry program," says Heather Listermann, urban ecology and public spaces supervisor at Glenwood Springs Parks and Recreation.
Miami-Dade County (Florida) Department of Parks, Recreation and Open Spaces
Park and recreation professionals at Miami-Dade County Department of Parks, Recreation and Open Spaces will build their community's resiliency by increasing the tree canopy found in low-income areas with low tree canopy to mitigate urban heat island effects, ensuring equitable access to the increased canopy and tree benefits. Additionally, they will restore critical habitats, remove invasive species and engage residents in tree planting.
City and County of Honolulu (Hawaii) Department of Parks and Recreation
Park and recreation professionals at City and County of Honolulu Department of Parks and Recreation will combat the negative effects of climate change through the development of a community tree plan, increasing local urban forestry capacity, and expanding existing community tree canopy and tree distribution programs.
Funding Insights
While this funding has already been awarded, it provides an insight into the funding themes that agencies can focus on when developing projects and searching for grant opportunities. Recent federal funding continues to emphasize the need to support underserved communities, increase resiliency to climate-related events, and increase the mental and physical health of community members. Now is the perfect time for your agency to look ahead and focus on how your projects can incorporate these elements to successfully receive future federal opportunities.
When reflecting on the application his agency submitted, Derek DeBusk, business services manager at Arlington Parks and Recreation Department, identified key factors to their successful application: "By highlighting how these positive impacts would extend to the communities neighboring the park, we focused on the potential for enhanced recreational spaces and a healthier ecosystem for all. Additionally, we stressed the significance of this project as a valuable source of information, which will guide the development of a comprehensive eradication program across our entire park system."
As we celebrate the agencies mentioned, there are many more entities that will be taking advantage of this funding. A full list can be found on the Forest Service website. Congratulations to all!
Elyse Gentile is Executive Branch Specialist at NRPA.