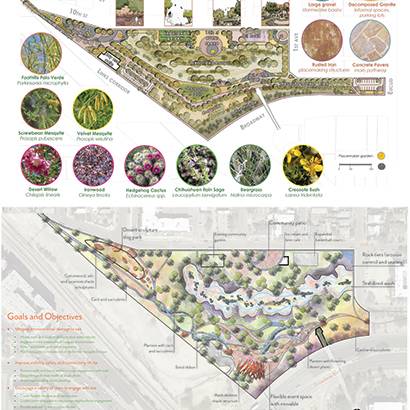 For an enhanced digital experience, read this story in the ezine.
The story of the revitalization of Iron Horse Park near downtown Tucson, Arizona, is a six-year-and-counting journey filled with community advocacy, persistence, resourcefulness, creativity and collaboration. The historic Iron Horse Neighborhood Association (IHNA) spearheaded efforts to improve its local neighborhood park after a string of violent crimes, starting in 2016.
Being a member of this community, I live across the street from this park and serve as a board member in the IHNA. Prior to becoming a professor at the University of Arizona (UArizona) in 2015, I spent 15 years as a practitioner in municipal recreation. During that time, I saw the untapped potential of this public — yet hidden — green space so close to the urban core of Tucson. After coming to the realization that city resources were going to limit meaningful action in 2017, I decided to reach out to the UArizona Landscape Architecture department.
Dr. Kelly Cederberg, who teaches a graduate student studio class in landscape architecture and was also a resident in the Iron Horse neighborhood, enthusiastically agreed to use the park for capstone projects in fall of 2018. Cederberg's students spent extensive time in the neighborhood and park, collecting data and participating in IHNA meetings throughout the semester.
Additionally, the Tucson Police Department and Tucson Homeless Outreach team were brought into the planning process. All stakeholders consistently agreed on the overarching priorities of enhancing sight lines and activating the space to improve safety perceptions and drive down illicit behavior.
During an inspired meeting, the students ultimately presented their final projects to the neighborhood. A couple of standout designs (pictured left) were presented from students Tess Wagner and Penelope Cottrell-Crawford.
Coincidentally, the Tucson city voters approved a local Proposition 407 bond in November 2018, during the same semester the IHNA was collaborating with UArizona. This $225 million bond package is dedicated to capital improvements that include enhancing city park amenities — such as playgrounds, sports fields, pools, splash pads, etc. — as well as connections (e.g., pedestrian pathways, bicycle pathways).
With neighborhood momentum and a collective vision, plus some new city funding options, the Tucson Parks and Recreation Department, under the leadership of Deputy Director Greg Jackson, helped complete an expedited, formal master planning process for Iron Horse Park in 2020. Through the height of the coronavirus (COVID-19) pandemic, community Zoom meetings proved productive and efficient thanks to the hard work of consensus building and data collection that had been done back in 2018 with the UArizona graduate students and neighborhood association. Wheat Design firm was hired to bring the vision to life in 2021, with construction finally starting in February 2023. Wall removals, multiuse pathway relocation, increased lighting, off-leash dog spaces and skateboarding areas are some of the highlighted upgrades coming to Iron Horse.
Resourceful and persistently engaged residents, creative and ambitious university students, committed faculty, collaborative city leaders and skilled landscape architects all made the process of reimagining this troubled public park possible.
Matthew Ostermeyer, Ph.D., is Associate Professor of Practice at University of Arizona.