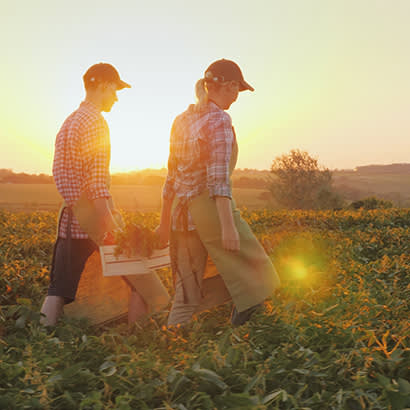 For an enhanced digital experience, read this story in the ezine.
Local parks implement federal nutrition programs
"Food is a right to the people…. When folks are constantly focused on where their next meal will come from, they are unable to thrive." – Katie Matthews, Be Mighty community wellness specialist
Health and wellness is a primary consideration of our work at NRPA. This is why we have advocated for the reauthorization of the Farm Bill, a key health and wellness player in the United States, to ensure its nutrition programs are adequately and robustly funded. As critical advocates for local community health, our members and their constituents rely on federal support to lead active, healthy lives.
What Is the Farm Bill?
The Farm Bill was first enacted in the 1930s to keep food prices fair for farmers and consumers, ensure adequate food supply, and protect and sustain the country's natural resources. Every five years, Congress must reauthorize the bill to maintain these critical programs and decide whether to increase the bill's budget. In the past, Congress has maintained the same budget, which because of inflation, has resulted in budget cuts for its critical programs. Covering issues from price and income support for farmers, to forestry and conservation efforts and nutrition programs, the Farm Bill has a much larger impact on park and recreation agencies than many realize.
Supporting Parks' Health and Wellness Initiatives
In 2021, 53 million people relying on food programs sought and/or received nutrition services at their local park and recreation agencies. The United States' hunger crisis particularly affects children in low-income households who rely on subsidized school meals to help meet their nutritional needs. Outside of schools, park and recreation agencies are the second largest provider of meals to children. As Community Wellness Hubs supporting equitable food access, these agencies see firsthand how food insecurity impacts people of all ages. The first line of defense is the federal nutrition programs within the Farm Bill, a patchwork of social services and community support that forms a critical public safety net.
Supplemental Nutrition Assistance Program (SNAP) – This program provides low-income individuals and households nutrition assistance through a monthly allowance. Participants can purchase food at authorized retailers, including thousands of farmers markets. A 32-page application and an interview with the local department of human services are required. Through funding from the Farm Bill, programs like Be Mighty in Little Rock, Arkansas, can provide in-person assistance via its SNAP Navigator's Training Program.
The Emergency Food Assistance Program (TEFAP) – At no cost to low-income community members, TEFAP provides state distributing agencies with nutritious food. State agencies distribute to local agencies that serve the public.
Commodity Supplemental Food Program (CSFP) – Through CSFP, low-income older adults receive groceries that address common nutritional deficiencies in the diets of this population. State agencies distribute these resources to local agencies that determine participant eligibility.
The Gus Schumacher Nutrition Incentive Program (GUSNIP) – As a competitive grant program, GUSNIP increases food education and access to nutritious produce. This funding supports the purchase of healthy fruits and vegetables by consumers involved in SNAP.
Next Steps
NRPA and its members want to see the Farm Bill strongly funded to ensure the continuation of these vital programs and services, so park and recreation agencies can continue supporting the health and wellness of their communities. Sign up for our action alerts to stay informed and take action on the Farm Bill and other legislation. Click here to access our SNAP and WIC Outreach Toolkit.
Elyse Gentile is Executive Branch Specialist at NRPA. Stavroula Kostas is Park Champions Initiative Intern at NRPA.