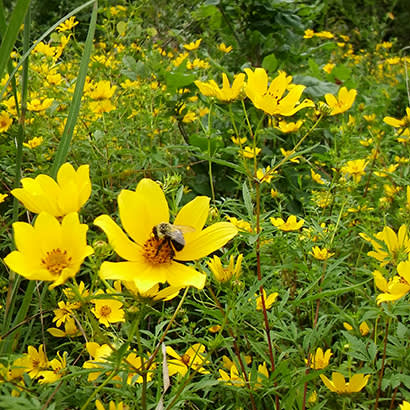 For an enhanced digital experience, read this story in the ezine.
When we were children, many of us had opportunities to connect with wild and natural habitats. We caught bugs, painted birdhouses and picked wildflowers. We learned that healthy habitats are filled with plants and animals that evolved together to survive, including squirrels and oak trees, finches and coneflowers, monarch butterflies and milkweed. As we've grown, those of us working in parks finally have the opportunity to care for a precious ecosystem. Many of us, however, have forgotten what we knew as children — instead of embracing natural habitats, we force land into the rigid mold of the lawn. And what creature has evolved alongside the turfgrass of modern lawns? The mower. You may think of lawns as a popular component of home landscapes, but lawns were first created in wealthy European estates called parks. Our parks today often mimic that aesthetic, even though lawns cost money and time to maintain and they often are unused by humans or animals. It is time that we recognize the importance of habitat in park management and take responsibility for the land we steward.
Urban sprawl, with its highly manicured landscaping and concrete, pushes its way outward, encroaching on and degrading healthy native ecosystems. The natural spaces left over, such as parks, often lack the required habitat to sustain the wildlife that once called these spaces home. The decline of biodiversity is widespread and due largely to habitat loss and fragmentation exacerbated by urbanization. This is seen especially in areas where non-Indigenous plants, including turfgrass, have been introduced and taken over what little habitat is left. Wildlife cannot thrive in this challenging matrix of lawn, ornamental plants and concrete. As habitat dwindles, so does the population and genetic diversity of plants and animals, further increasing the likelihood of extinction.
The problems facing humans in cities also prove daunting. City governments work to manage the consequences of pollution, extreme weather events, urban heat, unequal access to nature and healthy food, and a mental and physical health crisis. This is all while they are pressured to reduce greenhouse gas emissions and preserve biodiversity. Fortunately, all of these issues can be improved by bringing back healthy, Indigenous habitat into our urban and suburban areas. Specifically, parks have the potential to provide this habitat through the conversion of unused lawn. Just look at your nearby urban park: playground, ballfields and courts, a walking path, some trees, but probably much more lawn space. Much of that lawn likely goes unused. It also likely gets mowed twice a month for eight months out of the year, wasting money, time and resources while mowers spew greenhouse gasses.
Converting Lawn to Habitat
Now imagine every unused turfgrass lawn in parks converted into habitats for humans and wildlife. Imagine cities partnering with community groups to activate this neighborhood space. Imagine more gardens to grow food for both humans and wildlife, orchards and wildflower meadows, and peaceful wooded groves. Imagine natural play spaces where even "city kids" can get up close to nature near their homes. Imagine parks that better mitigate flooding, urban heat and pollution, and absorb more greenhouse gasses. Beacon Food Forest in Seattle is an example of community volunteers successfully creating an active habitat on city-owned land. This partnership empowers the community to grow and harvest food on public land while also improving the ecosystem and local biodiversity. The City of St. Louis created hundreds of flower gardens, many of which are on unused public lawns, through the Milkweed for Monarchs initiative. MillionTreesNYC is converting unused public lawns into forested area in New York City.
There are endless possibilities to turn our urban parks into vibrant habitats if we open our minds and our parks to more creative, community-based ideas. You can take action by:
Starting the conversation with your colleagues
Identifying unused lawn space in urban parks
Reading about NRPA's Parks for Pollinators campaign and resources
Reaching out to different departments and community partners for collaboration
Researching grants and funding
Recruiting volunteers
Looking to National Park City and Biophilic Cities for inspiration
Parks certainly can't solve the world's problems alone, but they do have an important role to play, serving their community and supporting the ecosystem. If city governments and park departments transform our unused lawn spaces into habitat, we can create cities where both people and wildlife thrive.
Autumn Costelle is a Naturalist at Louisville (Kentucky) Parks and Recreation.