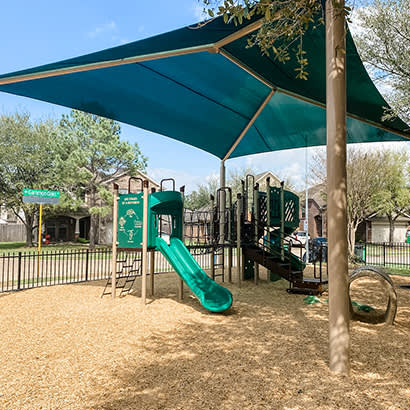 For an enhanced digital experience, read this story in the ezine.
When it comes to planning or improving outdoor spaces, like parks, pool and splash pad areas, dining spaces, parking areas, and bleachers, a shade structure almost always is considered. Not only can shade structures add unique architectural elements to your space, but also they offer important benefits. Consider adding shade to outdoor areas to provide protection from ultraviolet (UV) rays, reduce the temperature under the shade structure, and keep outdoor recreational products strong and durable.
Protection From Harmful UV Rays
Shade structures offer an effective solution to protect guests from harmful UV rays. Prolonged sun exposure can have serious effects on health, and shade can help prevent heat-related illnesses and skin cancer. Shade structures also allow guests to enjoy longer periods of time outside and encourage community members to make more visits to your park.
Reduced Temperature Under Shade Structures
When outside temperatures reach high digits, a shade structure can drastically reduce the temperature beneath its cover. Excessive heat exposure can be hazardous to health, especially when the body temperature elevates to dangerous levels. Children's bodies can heat up three to five times faster than an adult's body, so it is essential to provide a place for children to take a break and cool down so they can be safe while having fun outdoors. Equipment, such as playgrounds, tables and benches, also can get extremely hot if they are not shaded. A shade structure can keep these amenities cool so people can relax, and children can play without burning their sensitive skin.
Keeping Outdoor Recreational Products Strong and Durable
Park equipment will eventually be impacted by sun damage after being outdoors for prolonged periods of time. UV rays will negatively impact certain plastic and fabric materials, causing them to age and fade more quickly. Shading your outdoor products from the sun and harsh climates will lead to a longer lifespan and extended durability, protecting your investment.
Fabric vs. Steel
Now that you know the important benefits of adding a shade structure to your outdoor space, there are a variety of shade types to consider. Fabric shade structures are popular for parks, schools, zoos and museums, among other venues. They are more economical compared to steel shade. However, they do require some basic maintenance, such as tensioning of cables that holds the material in place. A few fabric shade solutions include:
Hip ends, cantilevers, waterproof umbrellas or sail shade canopies for pool and splash pad areas
Modular shades that can be incorporated into the play structure or freestanding for playgrounds
Custom shade canopies for parking lots, walkways, playgrounds and hotels/resorts
Steel shelters are another option to consider and can add substantial value to your outdoor space. These shelters can be constructed in different sizes and shapes, including hexagon, octagon, gable, hip and square. Other custom shelters include amphitheaters, bleacher covers, dugouts, mini shelters, playground covers, trellises and pergolas. There are a variety of roofing options. Steel shelters are low maintenance and extremely durable.
Many factors will determine which shade option is most suitable for your park or outdoor space. Considerations include size and access, what you are looking to shade, and your primary purpose of the shade structure — whether that's protecting against UV rays, adding all-weather protection, designing a unique look or creating a comfortable space for guests. Once these questions are answered, you will be on your way to creating a safe and enjoyable outdoor experience for your guests, adding significant value to your park.
Jennifer Egan is Marketing Coordinator at Kraftsman Commercial Playgrounds & Water Parks.