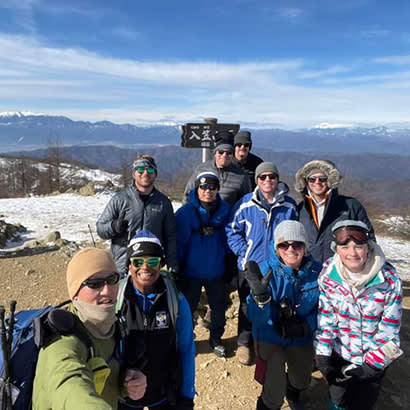 For an enhanced digital experience, read this story in the ezine.
How armed forces recreation fosters healthy military communities
Park and recreation professionals working within military communities share the same goal as their peers in local agencies — to support their community's health, well-being and quality of life through recreation. Armed forces recreation creates pathways to health and wellness and strengthens support networks within military communities around the world. Morale, Welfare and Recreation (MWR) departments and divisions support resilience, readiness and retention by providing service members and their families opportunities to recharge. Through programs and facilities for recreation, leisure, fitness and socialization, service members find respite from stressors, like "high operations tempos, heavy training cycles, [workforce] constraints, and deployments and temporary duties that cause family separations," says Shandy Scott, GS-13, business and recreation branch chief for the Air Force Installation and Mission Support Center (AFIMSC), Air Force Services Center (AFSVC), Services, Business, Recreation (VBR). "We ask a lot of our military families, so we want to make sure we provide them with a wide variety of MWR opportunities to unwind, reconnect and make memories together."
Promoting Health and Wellness
As studies continue to affirm recreation's positive influence on physical and mental health, the military is using recreation to support service members' well-being and mission readiness. "Recreation is now part of a bigger picture and is being used as a tool in a long-term holistic plan that considers domains of wellness, what we call Comprehensive Airman Fitness, through mental, physical, social and spiritual wellness," says Scott. "Recreation directly feeds into these domains and helps ensure our warfighters can achieve resiliency and total wellness that helps them better perform and do their jobs."
Scott points to a 2019 study during which 74 active-duty service members took part in a surf therapy program through the Naval Medical Center San Diego during a six-week period. Participants conducted self-assessments at the start and end of the study, as well as after each surf therapy session. According to the study, "Immediate benefits of surf therapy included significantly reduced depression/anxiety and increased positive affect. As a complementary intervention, surf therapy may improve depression, anxiety, and PTSD [post-traumatic stress disorder] symptoms with potentially unique benefits on affect." This study is one of many that demonstrate how effectively recreation increases wellness and resilience among service members, affirming the military's efforts to prioritize recreation as a tool to enhance readiness and well-being and support service members when they return home from deployment. "More and more studies have shown the direct positive correlation of recreational programming and easing mental stressors and ailments within the military community," says Scott. "Research has indicated that activities — such as fly fishing, standup paddleboarding, yoga and other activities — can be a source of intervention and help armed forces members cope with depression, anxiety and [PTSD], as well as other disorders, and improve overall psychological well-being."
Lisa Sexauer, director of fleet readiness for the Commander, Navy Installations Command in Washington, D.C., recalls a favorite example of the transformative power of recreation within military communities. While attending an annual meeting, Sexauer listened to a programmer describe her team's efforts to launch a walking club at their installation. She displayed a photo of the participants sitting on bleachers during their first gathering. Among them, one stood out to Sexauer, a service member looking down at the ground. When the programmer asked an audience member to join her at the front of the room, Sexauer saw the same man she'd noticed in the photo but re-energized and smiling. After the programmer successfully encouraged him to join the walking club, the service member gained confidence, improved his physical fitness, and found a positive outlet for recreation and socialization. "[S]omething as simple as a caring programmer and a simple walking club made a huge difference in that sailor's life," says Sexauer. "[H]e still participated to cheer others along."
Centering Equity and Serving Military Communities Holistically
MWR professionals support healthy, equitable military communities by creating inclusive programming using input from community members. "U.S. society is diverse, and that diversity carries throughout the communities we serve. We have to commit to learning who we program for and what the members of those communities value," says Sexauer. "If we understand those who make up the communities we serve, then we can better meet their needs. That means making a concerted effort to reach out and connect with all. Meeting the needs of recreational enthusiasts is easy, but we must come alongside individuals and learn more about what makes them feel comfortable and then create opportunities tailored to their wants and needs. Most importantly, it comes down to respecting and valuing everyone, and our programs and those who run them have to model just that."
MWR professionals strive to serve military families holistically and support their well-being, particularly as they manage frequent relocations and family separations during deployments. "By taking recreational programming and adding lines of messaging that are meaningful to our communities, we are able to better connect with our communities and fill needs," says Scott. "During the Month of the Military Child each April, we celebrate one of our biggest assets within our community, our youth. Our youth go through some of the same hardships as adults living within a military community, so they are exposed to multiple stressors with constant relocation and separation from loved ones. Month of the Military Child programs rally efforts to shine a light on the care we take and provide services and activities that are specifically tailored to their needs."
While veterans were previously not eligible to access MWR programs post-service, Sexauer says the military is creating opportunities for them to take part in armed forces recreation. "The Department of Defense has expanded quality-of-life program services to military veterans [who] did not remain in the service for the entirety of a career," she says. "We have progressively seen those veterans participate more in recreational services they previously did not have access to, ranging from golf [to] special events, bowling alleys and campgrounds." With this change, the military is offering veterans pathways to socialization and support networks that enhance their well-being.
Facing Challenges
MWR professionals are navigating the lasting effects of the coronavirus (COVID-19) pandemic. "Health and well-being, particularly mental health, has emerged as a challenging issue. The isolation associated with COVID-19 did not help and likely negatively influenced those challenges," says Sexauer. "Losing that face-to-face contact on a regular and recurring basis negatively impacted programs that were either scaled back or shuttered altogether, albeit temporarily. Despite those challenges, I am certain, over time, we can re-establish the desire to congregate and recreate together in person. On a positive note, the program did pivot to provide virtual opportunities, such as [esports] that will live on as a very popular initiative." To reconnect with their community members, MWR professionals are reaching out to service members for input and adjusting their offerings to best meet their needs, says Sexauer. MWR teams also are consulting colleges and universities to gain their perspectives on connecting community members within a campus setting. "[W]e are actively reaching out to academia to learn more about how universities connect with their student population on an ongoing basis and what type of research they are doing to inform important decisions regarding campus life," says Sexauer.
Like many local park and recreation agencies, maintaining adequate staffing levels has emerged as a challenge within armed forces recreation. "Some of the biggest operational constraints MWR [currently faces] is maintaining a civilian workforce, as most operations compete with the private sector when it comes to applicants, wages and benefit packages," says Scott. To encourage park and recreation practitioners to consider working within military communities, MWR professionals highlight the unique benefits the career path offers. "MWR professionals working for the military have a unique opportunity to 'give back' while they travel a career path that is diverse within the recreation profession, affords the opportunity to see the world, and offers extensive growth and progression opportunities," says Sexauer. "You can choose to settle and stay in an area as you aspire to grow within a locality or choose to move around and branch out into a multitude of support programs, some of which include extensive responsibilities and executive growth potential. I personally cannot think of a better scenario for any recreation professional given the diversity of experiences available and a mission that is, arguably, unmatched."
Pursuing Powerful Partnerships
Securing funding for armed forces recreation programs can be difficult, as MWR must compete against other military-readiness needs. "Equipment procurement and recapitalization [are] more challenging as financial support is constrained when other priorities compete for the same dollars," says Scott. Sexauer agrees, "[B]alancing available resources in a constrained environment can be challenging. However, Navy leadership has demonstrated a commitment, through action, to providing service members and their families everything they need to thrive despite the demands of the military lifestyle and this involves maximizing community partnerships." Partnering with local park and recreation agencies may help both entities enhance their programs and services using existing resources. Collaborations may lead both groups to provide a wider range of programs and services, embrace opportunities to connect service members and local community members, cross-promote programs, conduct research, and share resources.
Partnerships between MWR and local park and recreation departments exist in some communities, but Sexauer sees immense potential to expand and grow these relationships. "Military programs and the [park and recreation] departments surrounding our installations should be coming together at regular intervals to minimize duplication and promote one another's efforts," she says. "As we have worked to develop our strategy to receive the feedback we need to map out the future, cursory feedback efforts have indicated that we must look outside our fence line and lean on the communities surrounding our military installations to provide some of the services our folks desire…. Equally important, the collective we (military and communities) need to invest the resources and effort to conduct research. The military is just a microcosm of our society, and sharing our initiatives and the outcomes of those initiatives is vital to meeting the needs of those we serve."
Whether you work in an MWR or a local park and recreation department, consider reaching out to fellow park and recreation professionals in your area to establish partnerships. "[T]he MWR community experiences similar challenges [as local park and recreation departments] with end goals that are very much alike — build strong communities based on cohesion, trust and support through the power of recreation," says Scott. What's more, NRPA Connect offers a convenient tool to find and connect with professionals working in your area that can help you kick off interagency collaboration. Together, MWR and local park and recreation agencies can build strong, equitable and resilient communities.
Thank you to John Prue, CPRP, MWR program analyst, Navy Region Mid-Atlantic, and Gilberto "Sal" Salinas, business recreation, Air Force Services Center, for their contributions to this article.
To hear more about MWR, tune in to the June bonus episode of Open Space Radio.
Editor's Note: Shandy Scott's title has been expanded for accuracy.
Alexandra Reynolds is Associate Editor of Parks & Recreation magazine. Allison Colman is Director of Health at NRPA.