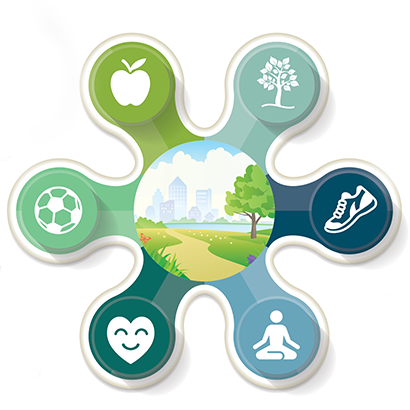 For an enhanced digital experience, read this story in the ezine.
Parks are an essential social driver and catalyst for community health. As one of the largest park districts and providers of youth programming nationally, Chicago Park District understands the dire need to center health equity and meet the needs and interests of its community members.
Parks as Health Hubs
Chicago Park District's partnership with NRPA has advanced its commitment to health equity and supported diligent work to create Community Wellness Hubs through the district's parks. Staff use the framework to support the agency's mission to enhance quality of life. For decades, Chicago Park District has formed partnerships with health stakeholders, including Chicago Department of Public Health (CDPH), NRPA, agencies, universities, hospitals and community organizations. Recognizing the importance of a cross-
sectional approach, the district's actions must comprise workforce, programs, partnerships and policies that prioritize health and wellness as a structure.
"For generations, Chicago parks [have been] vital sources of health and wellness opportunities, meeting needs and interests of all residents. During the recent pandemic, parks remained open to residents seeking respite and physical activity in a safe manner," says Chicago Park District General Superintendent and CEO Rosa Escareño. "As we look forward to the future, we are committed to increasing and prioritizing wellness and health equity across all communities. From our work supporting neighborhood gardens and farms; providing over 600,000 healthy meals to youth; strengthening bonds with health and wellness partners; to enhancing program accessibility and inclusivity, we are committed to taking bold steps to build an even stronger, healthier Chicago."
Parks as Places for Physical Activity
Despite research showing the health benefits of physical activity, most U.S. adults and children are not active enough. Following the Move Your Way® campaign, Chicago Park District's programs aim to incorporate at least 60 minutes of moderate to vigorous physical activity (MVPA) in out-of-school time (OST) programs in an effort to reduce chronic disease. The Centers for Disease Control and Prevention recommends at least 60 minutes of MVPA for youth daily, while aiming for 150 minutes weekly for adults. The agency's established partnership with Lurie Children's Hospital exemplifies the importance of research to create evidence-based curricula to increase MVPA in youth.
As staff members encourage residents of all ages to live active, healthy lives, it's critical that they address their employees' health needs. Dedication to employee health is vital, and departments must invest internally to get results externally. For instance, the agency's Employee Health Policy offers free fitness center access, lap swim and park fitness classes. Externally, the Fitness Rx program offers adult patrons compensated three-month fitness center membership for those who present a prescription for obesity-related disease.
​Parks as Drivers of Food Equity and Access
The Chicago Park District's Healthy Food Environment and Park User Wellness Policy demonstrated a collaborative strategy, which underscores the district's obligation to support healthy living in all communities. This commitment encompasses stocking vending machines with healthy options and making nutritious food available to order. As 1 in 5 youth who enter parks face food insecurity, access to healthy federal food programs is vital. Through NRPA's Parks as Nutrition Hubs grant program, Chicago Park District expanded education, food access, farmers markets and Supplemental Nutrition Assistance Program eligibility. The agency offers nutrition education year-round to staff and patrons through its OST initiative, including after-school, camp and sports programs, to fuel up for fun. Chicago Park District is an active member of the City of Chicago Food Equity Council and CDPH Partnership for Healthy Chicago, and these memberships align with our efforts to increase food equity and access.
Parks as Growing Spaces
Chicago Park District commits significant green space to supporting fertile grounds, including more than 90 community gardens, three urban farms and an organic greenhouse. The Outdoor Environmental Education team offers an organic gardening and stewardship program, including the Harvest Garden program. Youth learn diverse aspects of organic vegetable gardening using a seed-to-plate approach of planting, tending, harvesting and preparing food.
Community gardens promote and expand the greening efforts in the city while building social capital by providing valuable outdoor spaces where communities garden together and connect through the natural environment. They provide space for increased local food access and provide the additional benefit of job training and educational programs for area youth to support future careers in the field. For instance, the park district's urban agriculture partner, Urban Collective Growers, provides 30 grower apprentices, 32 herbalism apprentices and 20 teen youth corps members with more than 300 volunteers.
Chicago Park District is committed to centering parks as public health hubs by enhancing physical activity spaces, food equity, culturally relevant health education and nature immersion. This takes never-ending organizational and community collaboration with health-focused stakeholders that offer participatory input, accountability and commitment.
Colleen Lammel-Harmon, MPH, R.D., CPRP, CPT, is Senior Project Manager, Health and Wellness at Chicago Park District