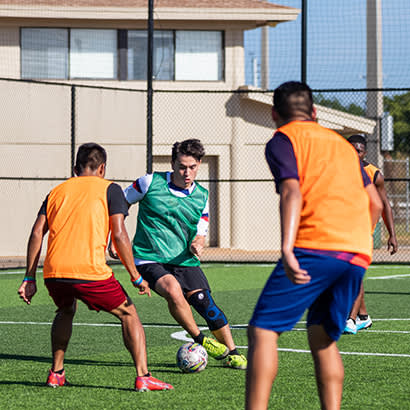 For an enhanced digital experience, read this story in the ezine.
In March, Palm Beach County Parks and Recreation and Soccer 5 USA unveiled a new small-sided soccer complex at John Prince Park in Lake Worth, Florida. Built on the site of an underutilized softball field, the facility will host an estimated 12,000 to 14,000 games per year, according to Soccer 5 USA President Scott Georgeson. Six small-sided soccer fields — four for seven versus seven play and two for five versus five play — make up the complex. Small-sided soccer games are played with fewer players on smaller fields, which gives players more opportunities to touch the ball. The small-sided soccer fields require less space than regulation soccer fields, fostering simultaneous play within the space.
After researching sports trends, Palm Beach County worked with Soccer 5 USA to replace one of its softball fields and transform the area into an active, lively play space. "I think there's been somewhat of a shift in the culture and the popularity of the sport where soccer's kind of skyrocketed…" says Georgeson. The small-sided soccer complex also has created employment opportunities. "Ultimately, what we've done is we've transformed a loss-making, underutilized space in the park and turned it into a profit-generating asset for the park at zero cost to the county," says Georgeson.
Less Maintenance, More Play
The complex's synthetic turf fields hold up to repeated use and challenging weather conditions. "[W]e've seen that the public has really been attracted to that consistency of play that the areas provide..." says Georgeson. Synthetic or artificial turf lends durability, resilience and ease of maintenance, as it does not require irrigation, pesticides or mowing. "The main requirements for an artificial field are a drag brush or sweeping as needed, and that's on an infrequent basis, usually every month or two months...and [the] maintenance of the rubber infill and high-use spots in the field..." he says. Georgeson estimates that the synthetic turf used on the small-sided soccer fields at John Prince Park will have a lifespan of 12 to 14 years.
Soccer players of all ages and abilities enjoy high-quality, consistent play experiences at the new small-sided soccer complex, which already has hosted more than 5,000 games since opening, according to Georgeson. He adds, "[W]ith the small-sided soccer that we offer, the fact that we can include so many more fields compared to that of a…regulation-size soccer field, we're just able to facilitate so much more play for the local community, and that's what our goal is."
Alexandra Reynolds is Associate Editor of Parks & Recreation magazine.