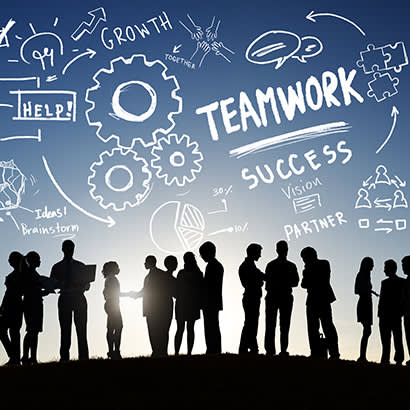 For an enhanced digital experience, read this story in the ezine.
With the acute labor shortage affecting park and recreation departments nationwide, coupled with the upcoming enrollment cliff in higher education — an expected 10 to 15 percent drop in traditional incoming college students projected to occur within the next two years — collaborative partnerships offer a unique solution to the challenge of recruiting and retaining students and part-time and seasonal employees. Aurora (Illinois) University's Therapeutic Recreation Department and Fox Valley (Illinois) Special Recreation Association (FVSRA) have formed an award-winning collaboration that has created a culture of leadership, grown the recruitment and hiring pipeline, and provided educational opportunities in a true win-win scenario.
Experiential Education
Several occupational and educational trends led to this successful partnership. In higher education, the fast-approaching enrollment cliff combined with well-documented student struggles to stay engaged has created an opportunity to change the way course material is delivered. Growing support, backed by evidence-based research, shows the value of experiential education in student learning and leadership development. On the flip side, FVSRA has experienced the same challenges hiring and retaining part-time, front-line workers as many park and recreation agencies across the country.
Aurora University and FVSRA created experiential learning opportunities that have become the hallmark of their partnership. In almost every therapeutic recreation class, students are planning, implementing and evaluating weekly in-person and virtual programs, as well as special events for individuals with developmental disabilities at FVSRA. These learning opportunities connect classroom theory to real-life experiences while building leadership skills and offering networking opportunities with professionals in the field. They feed a basic human need: the desire for meaningful life experiences. Students graduate with résumés well-versed in professional development experiences that give them a significant differentiation in the job market. Overall, the immersive curriculum acts as a recruitment tool for the university, and students stay excited and engaged in their learning.
One such program developed during the coronavirus (COVID-19) pandemic, called Spartan Pals, has continued due to popular demand from both university students and adults with developmental disabilities served through FVSRA. Each semester, five to six small groups of university students work together to deliver eight 30-minute therapeutic recreation programs through a virtual format for 15 to 20 FVSRA participants. Thus, some of the typical accessibility barriers experienced by people with disabilities, such as transportation or cost, are foregone. The program was initially developed to combat the isolation that accompanied the COVID-19 pandemic but has continued because it contributes to the quality of life, learning and engagement of both students and participants, who form meaningful social connections. Spartan Pals has increased FVSRA program opportunities for individuals with disabilities with the additional resources provided by Aurora University students, allowing for maximum utilization of staffing resources.
From Student to Employee
The partnership with Aurora University also has created a hiring pipeline for FVSRA. Because of the excitement generated through the academic experiences, almost all therapeutic recreation students have applied for and attained part-time positions at FVSRA. Aurora University's therapeutic recreation students also are actively pursuing internships with FVSRA, as well as full-time employment post-graduation.
This synergy is expanding to other majors and programs at the university. Physical education classes now are connecting with FVSRA's Special Olympic teams and Aurora University's Division III athletics and planning on doing sport-specific clinics for the athletes at FVSRA. In addition, FVSRA staff are coming to guest lecture for therapeutic recreation and autism studies classes.
Recommendations for similar collaborations are simple. First, organizations should have mission statements that align with one another. Both Aurora University and FVSRA place a high value on inclusion, transformation and empowerment, which align with improving the lives of people with disabilities.
Having a culture of servant leadership also is helpful. Leaders focused on the growth and well-being of those who actively design programs for others help their organizations perform at a high capacity. Aurora University and FVSRA have developed a clear, collaborative vision that values creativity and imagination to forge new programs in uncharted territories.
Organizations that are geographically relevant to one another simplify the potential for collaboration. The ease of access results in higher engagement possibilities and lower coordination costs. Students are drawn to the ease and accessibility of meaningful work that is close in proximity.
When park and recreation departments creatively collaborate with other organizations, such as local colleges and universities, compounded efforts can create amazing results. Much like the adage of the Belgium draft horses that can quadruple their pulling capacity when paired with just one other horse, organizations can create exponentially better results for everyone involved by working together toward a common goal.
Kris Johnson, M.S., CTRS, is Associate Professor of Therapeutic Recreation at Aurora University. Alex Engelhardt, MBA, CTRS, CPRE, is Executive Director of Fox Valley Special Recreation Association.