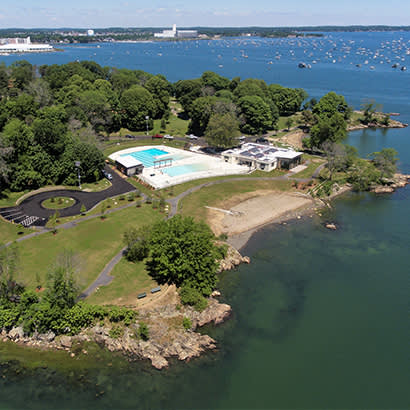 For an enhanced digital experience, read this story in the ezine.
Forest River Park in Salem, Massachusetts, has been a favorite summertime destination for residents and regional visitors since it was established by the city in 1907. Encompassing more than 30 acres of land with an extensive shoreline along the Salem Harbor, it offers a playground, picnic areas, athletic fields and a seasonal living history museum. The park's iconic pool and bathhouse, located at the water's edge, have provided relief from the summer heat for nearly a century — until 2017, when they had to be closed to the public.
The area was originally established as a tidal bathing pool in the early 1900s. The bathhouse was added in the late 1920s and upgraded in 1972 with new electrical and plumbing systems. The pool was renovated in 1972, and again in 1999 when it was expanded to provide a wading area and converted from saltwater to a recirculating freshwater pool. Both the pool and bathhouse deteriorated over time and fell out of code compliance, and the filtration plant failed after being flooded by nor'easters in 2018.
While their closures were a great loss to the community, they led to the creation of the Forest River Outdoor Recreation & Nature Center: a sustainability-themed place for people of all ages and abilities to be active, enjoy nature and engage in educational programs year-round.
The center boasts two new pools: a shallow 2,265-square-foot pool for children and those taking swimming lessons, and a deeper 4,803-square-foot pool with a fully-accessible chairlift for recreation and lane swimming. Both feature a beach entry design, perfect for older adults, families with young children or those with physical disabilities. A geology-themed splash pad winds around the pool like a river, with interactive "volcanic" water features and glacier-shaped benches. A new, climate-resilient filter building houses a first aid/lifeguard station and displays a bronze and acrylic mural of the area's coastline on an exterior wall. Interpretive signs highlighting the area's history and natural resources line the 1,500 feet of accessible stone-dust pathways.
The renovated 4,650-square-foot stucco bathhouse is a net-zero energy building, complete with solar panels, a white roof, daylighting, energy-efficient equipment, and passive cooling vents. It also features new windows and an addition overlooking the harbor. The expanded facility serves as a year-round building with concessions, restrooms, lockers, family changing rooms, offices and a new community room for off-season educational programming.
The two new pools were relocated out of the flood hazard zone, allowing for the tidal pool's restoration and access to even more educational opportunities. State-of-the-art stormwater management and carefully-selected vegetation were installed to help ensure the facility's climate resiliency.
Working close to the water's edge was tricky for construction manager Colantonio Inc. High tides flooding the site cost four days of work each month. Certain activities, such as the removal of asbestos piping, were scheduled around the tides.
The Forest River Outdoor Recreation & Nature Center opened in June 2022 for thousands to enjoy each year as a vital source of recreation and education.
Amy Fahey is Director of Marketing for Colantonio Inc.