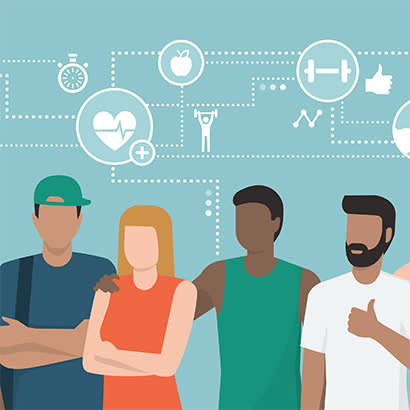 For an enhanced digital experience, read this story in the ezine.
Carter County Drug Prevention (CCDP) and Elizabethton (Tennessee) Parks and Recreation have been close partners for many years. From 2012 to 2016, they offered "wrap or roll'' playdates in parks for moms with little ones, providing an opportunity for them to engage with each other and the green spaces throughout the community. They hosted an annual World Breastfeeding Week celebration and a "Baby Rest Stop" for moms and babies at community events. From 2016 to 2019, they hosted monthly engagement opportunities within the recreation center for the local homeschool community, providing family engagement, Valentine's Day parties, post-Halloween "candy science" events and more. They collaborated on community events for families along the "Tweetsie Trail" — the community walking and biking trail — and offered Storytime with Santa, "Touch a Truck" events, Independence Day celebrations, and worked to support and allow family engagement with their local minor league baseball team.
Partnering to Address Substance Use Disorder
In 2016, CCDP and Elizabethton Parks and Recreation took their partnership even further when CCDP began working to change the staff culture around those impacted by substance use disorder. CCDP worked to educate — and therefore, change the perceptions of — all park and recreation staff around community members with substance use disorder. This involved teaching about how adverse childhood experiences and trauma affect those around us and how to safely dispose of tobacco, alcohol and drug paraphernalia that may be found in parks.
In 2017, when these already-established partners were contacted about a grant application from NRPA for the implementation of youth mentorship programs to assist youth who were impacted by the opioid crisis, they could not have been more excited. Through many years of these partnerships to provide events and activities in the community, the organizations met thousands of families who were at risk for serious lifelong complications due to generational cycles of trauma, poverty and substance use. These families needed more than a day at the park or an afternoon of family fun. However, Elizabethton Parks and Recreation and CCDP frequently lacked resources to share, and often finished events believing they had not done enough for the parents or children they encountered. They could not have asked for a more perfect solution than the partnership with NRPA and the Office of Juvenile Justice and Delinquency Prevention.
PEAK Mentorship Program
The mission of the PEAK (Promoting Esteem Among Kids) Mentorship Program has always been to enable youth to develop positive relationships with caring adults. Their vision is to help children develop healthy, strong relationships and negate adverse childhood experiences. With the development and implementation of Elizabethton/Carter County's mentorship program, nearly 50 families have been impacted by one-on-one relationships created for at-risk youth. Mentors are thoroughly screened and asked to agree to the following:
Make a one-year commitment
Spend a minimum of eight hours per month with a mentee
Communicate with the mentee weekly
Attend an initial two-hour training session and additional two-hour training sessions twice during each year of participation in the program
Attend optional mentor/mentee group events, mentor support groups and program recognition events
For that one-year commitment, the match is provided with resources, materials, opportunities and individual support from the PEAK Mentorship Program coordinator to enhance their relationship and to navigate any needs that may arise for mentees.
Battling Barriers
The PEAK program battled barriers to implementing a successful program. Parental skepticism about participation was rampant in the rural Appalachian community, which often distrusts outside influences on their families. Additionally, due to the coronavirus (COVID-19) pandemic, the program transitioned to a virtual format for several months. Even with these struggles, PEAK has been able to overcome barriers and has still seen amazing successes.
NRPA ​worked with MENTOR, The National Mentoring Partnership, to develop extensive resources for any local park and recreation agency interested in developing their own mentoring programs and have made those easily accessible. These resources allowed CCDP and Elizabethton Parks and Recreation to implement evidence-based practices immediately upon creation of the program and overcome any struggles that arose. NRPA supported the agencies mentioned in this article, as well as many more, in their efforts to build effective and evidence-based mentorship programs that connect youth with caring and compassionate mentors while strengthening connections across communities. Without the support of NRPA, CCDP and Elizabethton Parks and Recreation would not have been able to take their partnership to the next level. Their community needed a transition from general community events and programming to something deeper and more meaningful, and NRPA provided that opportunity.
Jilian Reece is Director of Carter County Drug Prevention.