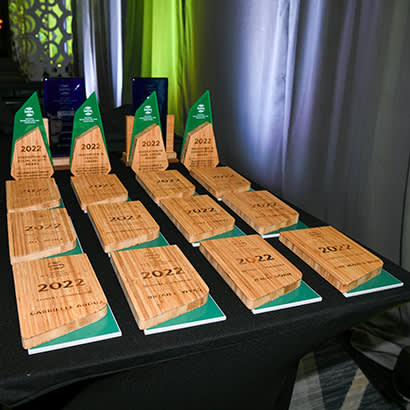 For an enhanced digital experience, read this story in the ezine.
Now through March 24, 2023, NRPA is accepting applications for its 2023 Awards Program. NRPA awards consist of the following:
The National Gold Medal Awards, governed and administered by the American Academy for Park and Recreation Administration in partnership with NRPA, honor park and recreation agencies throughout the United States and armed forces recreation programs worldwide that demonstrate excellence in delivering superb park and recreation services. (The application deadline for these awards is March 3, 2023.).
The Innovation Awards showcase the inspiring work park and recreation agencies do to improve and empower their communities through innovative practices in park design, health and wellness, conservation, and equity.
The Spotlight Awards are presented to individuals to honor their efforts — both professional and personal — in the field of parks and recreation. Award winners include park and recreation professionals, volunteers, engaged community members and park advocates.
The Hall of Fame inducts individuals posthumously who have made extraordinary and lasting contributions to the advancement of the park and recreation movement.
New This Year
NRPA is excited to introduce a new award, the Dirk Richwine Professional Mentoring Award, which is presented to an individual who has made outstanding contributions through mentoring of individuals and organizations to strengthen the field by helping other professionals grow, develop and flourish. Through these efforts, this individual will have better prepared the next generation of park and recreation leaders.
Scholarships and Fellowships
NRPA members are eligible to apply for NRPA Young Professional Fellowships, Diversity Scholarships and Student Scholarships. Not only are the awards prestigious, but also they include complimentary NRPA Annual Conference registration and a travel stipend. Each fellowship and scholarship winner also is connected with a mentor to maximize their conference experience.
"Winning the scholarship allowed me to attend the conference, and I connected with parks professionals from all over the country to learn from their best practices and case studies," says Olivia Salazar de Breaux, 2022 Diversity Scholarship recipient. "I attended equity-focused workshops and explored frameworks and strategic approaches to diversity, equity, inclusion and belonging initiatives. I was inspired by speakers who reminded us that parks, arts and recreation [are] crucial for community health, well-being, upward mobility and resilience. Ultimately, I walked away from the conference reinvigorated, inspired and excited about bringing all that I learned back to the City of Olympia [Washington]."
"Receiving the Young Professional Fellowship has impacted my career in many ways. Most importantly, it has enabled me to become more deeply connected to NRPA and all the amazing opportunities it provides," says Cameron Levis, 2021 recipient of the Young Professional Fellowship. "The opportunity to connect with other passionate park and recreation professionals has helped me expand my network of individuals in the field to learn from and grow with, which, in turn, helps me to serve my community better."
To learn more about NRPA awards, scholarships and fellowships, visit nrpa.org/Awards.